This Hermes Edition Pagani Huayra is worth an eye-watering $7 million. 
The standard Pagani Huayra, meanwhile, will set you back $2.5 million, but that wasn't an option for Manny Khoshbin. 
The real estate mogul spent an additional $4.5 million turning his Huayra into one of the most spectacular and unique hypercars on the road today.
READ MORE! An oil change in a Bugatti Veyron costs more than most people's cars
But the upfront cost and customizations were just the beginning. 
If you own your own car, let alone a supercar, you know the maintenance costs are the real stinger.  
And now Khoshbin, who has a bonkers supercar collection, is revealing just what it costs to maintain his incredible Hermes Edition Pagani Huayra. 
First, he explains just how much work went into creating the car. 
"I placed the order for the car in 2015, then I reached out to Hermes and told them 'hey, I want to design this new supercar with you'," he said. 
"So I paid them to travel to the Pagani factory." 
And after eight months of collaboration between Pagani and Hermes, the Huayra was an entirely new creation. 
"As you can see, everything was redesigned, from the seats to the dash, to the center console and the doors," he said.
Khoshbin said every grill on the car was also laser cut to resemble the Hermes emblem. 
"And everything you see inside the car was handmade by Hermes in Paris, including every piece of leather you see on the trunk, the gearshift, the seats," he said. 
Hermes also created a custom six-piece luggage set for the car, with each piece made to fit perfectly into different corners of the car. 
"I wish you could touch this leather to feel what I'm feeling," he said. 
"I feel like I'm driving a Birkin [bag] every time I get in this car."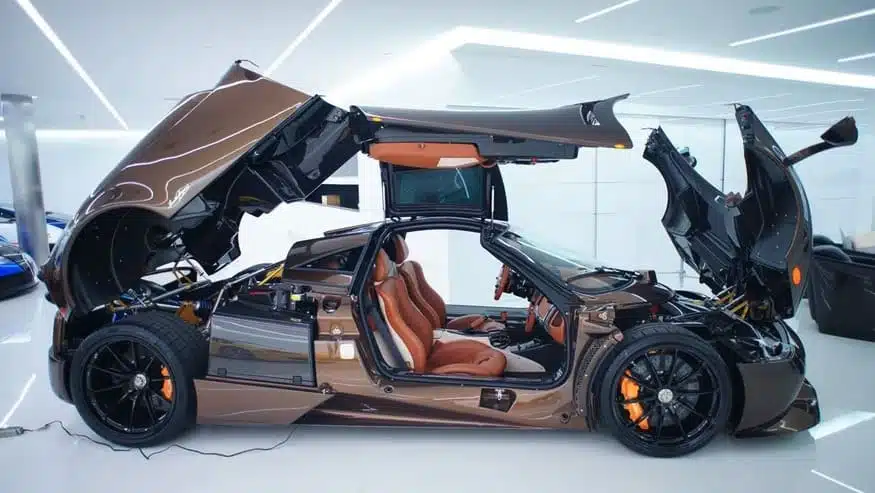 So, what about service costs?
"Today's the day I take my Pagani for a service and it's going to be an expensive day," he said. 
"I've only done 120 miles in five years," he told the guys, hoping it might level out the cost. 
But that did little to change the astronomical USD $8,000 annual service cost. 
"It's not just an oil change?" he asked. 
"No, it's not just an oil change."