Anyone who watched 2010's Tron: Legacy knows there's nothing cooler than a bike straight out of the future.
The lights, the length, the low-slung body, the hubless wheels – it's a seriously awesome-looking bit of kit.
Imagine if you could actually buy one…
There are stacks of futuristic bike concepts kicking around.
That's why we've rounded up the 10 coolest bikes to show you what the future will look like.
Who knows – one of these could be what you're riding in 2030.
10. Parker Brothers Tron Light Cycle
Yep, that's right – the Tron Light Cycle is a real thing.
Designed for Tron: Legacy by artist Daniel Simon, the blueprints were handed over to Parker Brothers Concepts who built the real thing.
Only a small number have been made.
CHECK THIS OUT!
The cost is $55,000 for the Standard Edition and up to $75,000 for the Platinum Edition.
While gas models were originally made, the company then switched to electric power for the Neutron version it currently offers through its website.
9. BMW Motorrad VISION NEXT 100
When BMW celebrated its 100th birthday in 2016, the company created a bunch of models to look ahead to the next 100 years.
The BMW Motorrad VISION NEXT 100 is what it came up with as its vision of the future of two-wheeled transport.
With a triangular carbon body, it certainly looks like something Marty McFly brought back from the future.
Its traditional flat-twin engine is a clear nod to BMW's past, though.
The bike is self-balancing as well, meaning it doesn't require a kickstand.
8. Moto Undone
If you stripped every single feature of a motorcycle away, what you'd be left with is the Moto Undone.
Designed by J.Ruiter, its mirror-finish aluminum body makes it look as though the rider isn't on a bike at all.
It simply reflects their surroundings back, making it almost appear invisible.
All-electric and designed for urban use, the Moto Undone is perhaps the craziest idea you'll see on this list.
7. Kawasaki J
While the Kawasaki J concept dates back to 2013, it still looks crazily futuristic today.
With two front wheels, it uses individual controllers for each instead of handlebars.
Even more advanced than that, though, is its ability to shapeshift for different riding positions.
It could stand more upright for urban cruising, or flatten out for high-speed freeway runs.
Although dual front wheels is something that has made it to production on other bikes already, the shapeshifting is something I doubt we'll see in production for some time.
6. Honda V4 Concept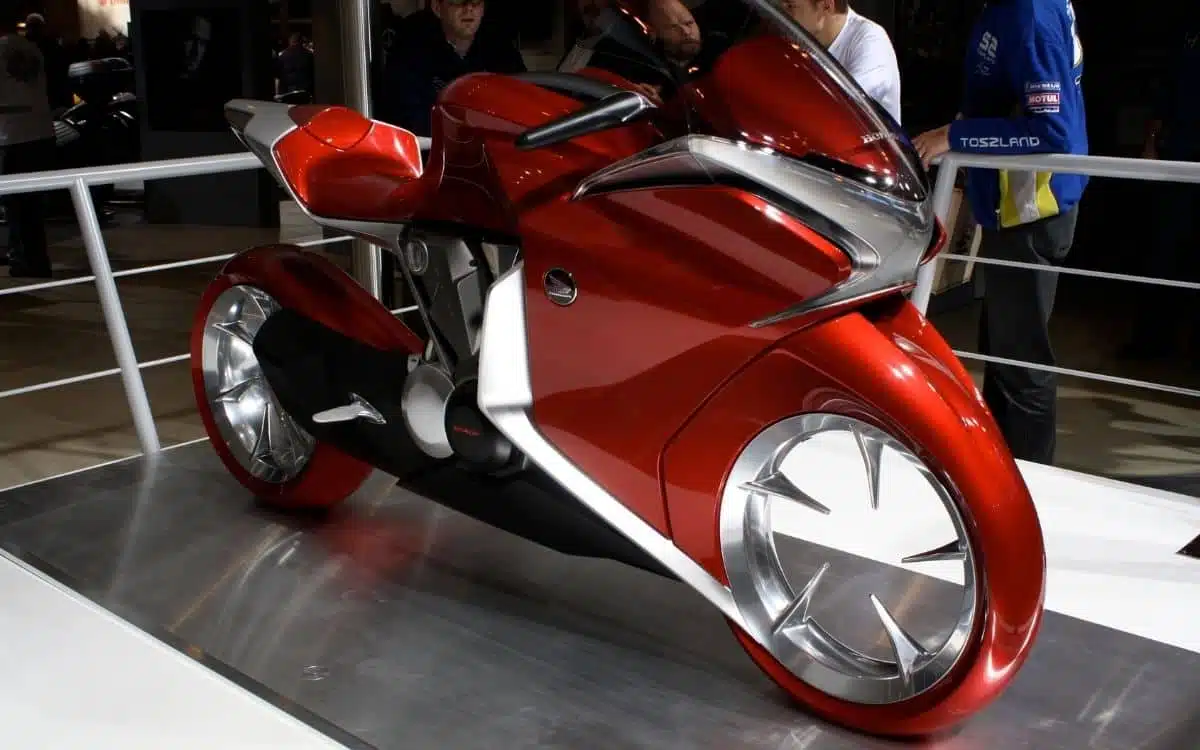 If you thought the Kawasaki J dating back to 2013 was a throwback, just check out Honda's 2008 V4 Concept.
Based on the brand's trademark V4 engines, the concept challenged all motorbike design conventions at the time.
Its hubless sawblade wheels were the most futuristic of all design elements.
But the fact they are fixed in place and can't rotate appears to be a bit of an oversight.
Consider the V4 Concept simply a case of style over substance.
5. SONDORS Metacycle
Obviously, the most immediate thing you'll notice about the SONDORS Metacycle is that there's a massive hole in the middle of it.
This is where the fuel tank would normally go; it doesn't need one.
It's electric.
The cool thing about the SONDORS Metacycle is the "exo-frame" body.
Being cast, there are no welds needed.
That means it's made of just one piece of metal – so it is super strong.
4. Yamaha PES2
The first thing that will stand out to you about the Yamaha PES2 concept is its white tires.
They certainly look rather fetching, but I'd hate to see them after they've worn against the road for a few hundred miles.
What's actually the coolest thing about the PES2, though, is the way it's powered.
While most bikes only have power sent to the rear wheel, an electric motor powers the front wheel of the PES2.
So it's all-wheel drive.
There's some helmet trickery going on as well.
The PES2 has an augmented reality display inside the helmet visor to show you info like speed and RPM.
3. BMW Motorrad & LEGO Technic Hover Ride
When BMW and LEGO Technic teamed up to make a kit to build the R 1200 GS Adventure, the two designed the kit to also make a hoverbike concept with the same pieces.
Dubbed the Hover Ride, the two decided to take it a step further by building a real-life replica of the bike.
The bike is powered by a fuel cell/battery hybrid system housed inside a casing resembling a BMW flat-twin engine.
To stay afloat, it uses a propeller at the rear and an anti-gravity thruster system.
The only trouble is that BMW says the system only works on April 1 each year.
Yes, it's an April Fools joke.
2. Johammer J1
Austrian company Johammer is trying to make the world's first electric series production bike with 200km (124mi) range.
To do this it has a retro-futuristic body sculpted to be as aerodynamic as possible.
Its big body features grooves to channel the air around it, and the wheels have solid centers for better aerodynamics.
Its center of gravity is ideally balanced for improved handling as well.
However, the range of the final bike on this list blows the J1's out of the water.
1. Arc Vector
The Arc Vector has been a will-they, wont-they startup for a few years.
But it is finally edging closer to production.
The Vector is set to be handmade and personalized for each owner, but that's hardly the impressive bit.
What's most impressive is that it offers 436km (271mi) of range. That's more than double the J1, and nearly double the Harley-Davidson LiveWire.
It can also be charged in just 40 minutes, making long-distance electric touring a real possibility.
WATCH: