This is XPENG's flying car, the X2.
The car made history this month when it took off for its very first global public flight in Dubai.
Now Supercar Blondie has been given an exclusive look inside the eVTOL.
Check out the video here!
READ MORE! Flying car successfully completes its world first public flight in Dubai
XPENG, a Chinese technology and EV manufacturer, has built the flying car to be completely autonomous.
And for this reason, there is no steering wheel or 'yoke'.
CHECK THIS OUT!
Instead, there's nothing but display screens in front of you when you get in.
Above the center display screen is a row of fighter jet-style toggles and the on/ off button.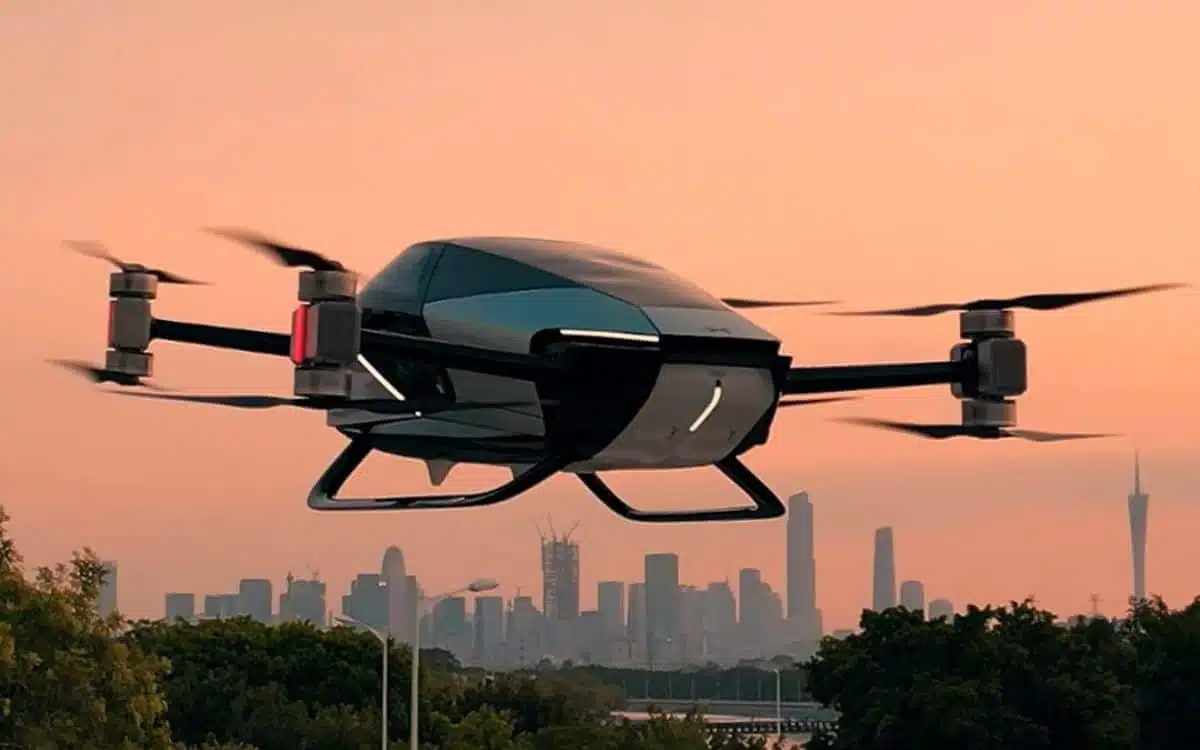 And in order to fly, XPENG has made it incredibly simple. 
You just have to press the start button and select your destination on the display screen.
Then, just sit back and relax as the X2 flies you there.
The flying car can carry two passengers and fly for 35 minutes, so it's not exactly designed with long-haul flights in mind.
Essentially the X2 is being produced for people who want to escape the city traffic below.
Design
The X2, which is the latest generation of flying cars developed by XPENG AEROHT, has been built to be ultra lightweight.
It has been built almost entirely out of carbon fiber meaning it weights just 560kg.
Most of the carbon fiber is painted, but XPENG has left parts of it exposed, including the propellers.
The propellers are also lit up in red and green lights.
The right side is lit up green and the left side is red.
This is so other aircraft know which direction you are flying – to avoid collisions in the air.
Interior
The interior cabin is covered in collage carbon fiber.
It's also lined with Alcantara for ultimate luxury and comfort.
Charging
XPENG says the X2 needs about three hours to charge before it can fly for 35 minutes.
So, compared to a 'normal' car, its charge time-to-range ratio isn't great.
But then again, this is no 'normal' car.
Power
The autonomous two-seater eVTOL can get up to speeds of 130km/h.
XPENG says the X2 will be able to cut a 4.5 hour-long car journey down to just 20 minutes.
The company also says the X2 emits zero carbon dioxide.
X2 at a glance
The eVTOL multi-copter will be completely autonomous.
It will be able to carry two passengers, reach speeds of 130km/h (81mph) and have a flight time of 35 minutes.
XPeng says it will also have a cruise altitude of 300-500m (up to 1,640 feet).
The X2 flying car has eight propellers, eight electric motors and is powered by batteries.
And as a fail-safe, it's also fitted with a ballistic parachute.
It weighs just 560kg and can take off with 760kg.