If you buy this Aston Martin Residences penthouse, you get a free Vulcan.
The penthouse takes up the top three stories of the Miami tower and it's truly spectacular.
The price is also spectacular, coming in at a cool $59 million.
READ MORE! Saudi Arabia is building a $500 billion luxury ski resort in the desert
The Aston Martin Residences tower is almost finished construction, but the building's most prized apartment is still up for grabs.
So, to incentivize buyers, the British automaker is throwing in the $2.3 million Aston Martin Vulcan.
CHECK THIS OUT!
There were only 34 units of the Vulcan ever produced.
That alone might whet your appetite but wait for the main course because this property is in a league of its own.
It has seven bedrooms, eight bathrooms, a private pool and spa, and more than 7,000 square feet of private outdoor space.
One of the most spectacular features of the penthouse is the custom-made glass staircase with a handrail that is inspired by the Aston Martin emblem.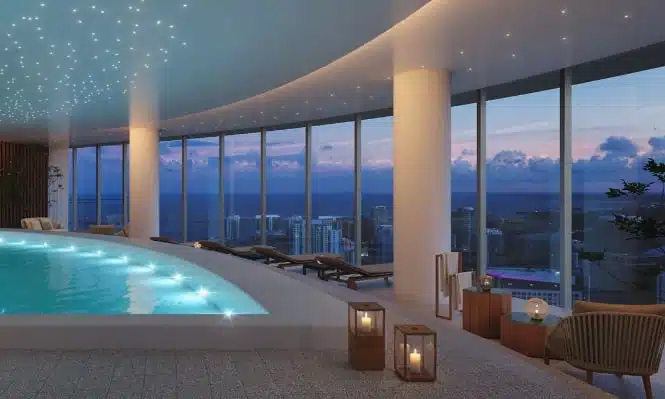 The penthouse also has an incredible master bedroom with its own balcony.
And it has views of the Atlantic Ocean from almost every room including the kitchen and bathroom.
The penthouse is just one of 10 units that remain unsold in the 391-unit building in Miami.
At 816 feet tall, the waterfront Aston Martin tower is the second-tallest building in Miami.
The tower is due to officially open to residents in Summer, 2023.
The Miami tower isn't the British marque's first foray into real estate.
The carmaker teamed up with a luxury real estate house to create its very own Aston Martin mansion in Tokyo, Japan.
The property is a car-lover's dream home, as it displays supercars like artwork to be enjoyed.
The townhouse also has a wine cellar, home cinema, gym, private spa, and features supercars as artwork to be enjoyed.