The covers are finally off the CUPRA DarkRebel.
After being teased with pictures earlier this year, the concept's been revealed at the Munich motor show in physical form for the first time.
And the wait's certainly been worth it, as the sharply-styled coupe looks epic – check it out in the vid below!
READ MORE! This is the Lucid Air Sapphire, the world's most powerful sedan
There is one caveat, though, that being the CUPRA DarkRebel is only a design study.
That means it's unlikely to make it to production but, nevertheless, it gives us a taste of the Spanish brand's future design themes.
Getting up close and personal with the concept car, the first thing you notice is how imposing it is.
That could be something to do with it being 4.5 meters long, 2.2 meters wide, and 1.3 meters tall (2.2 meters with its scissor doors extended full upward). 
Your attention is also drawn to some key design elements, such as front and rear lights that are incorporated into the bodywork.
Like a set of eyes, the new light patterns are apparently going to become CUPRA signature in the future.
Then there's the illuminated CUPRA badge, which also features on the Tavascan model.
Modelled on that of a speed boat, the central cell of the coupe has vast wings, diffusers, spoilers, cooling and aerodynamic features wrapped around it.
Just like the exterior, there's plenty to like about the DarkRebel's interior, too.
Take the bucket seats for example, which feature headrests made from glass and copper inserts, covered with 3D knitting fabric.
There's also a cool gaming-style steering wheel and display screen, supposedly designed to leverage CUPRA's popularity in the gaming world.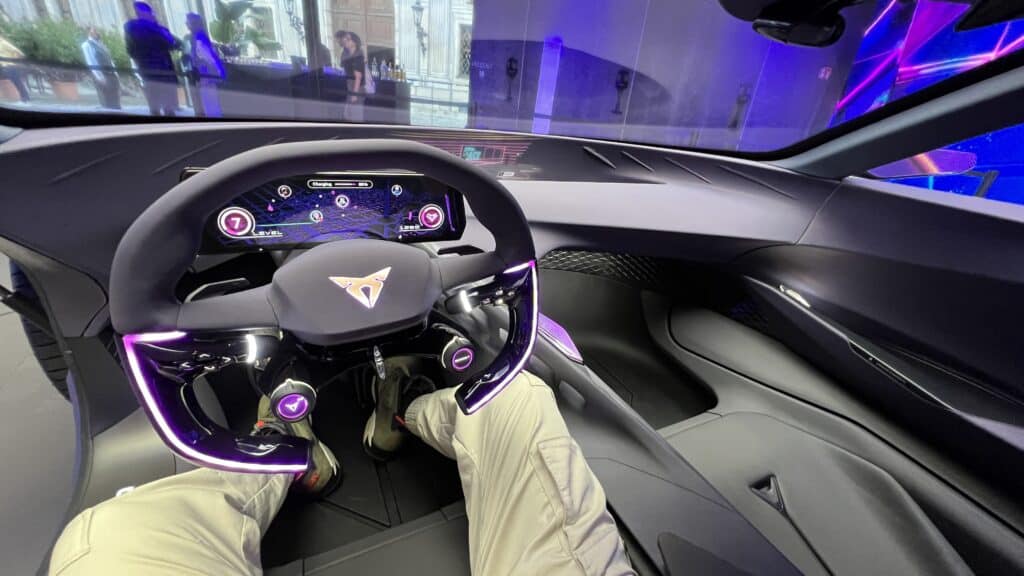 As for what's under the hood, few technical details have been revealed, other than it's electric.
Oh, and it's the most powerful showcar ever made by the brand, with over 450 horsepower (peak power).
Apparently, it can accelerate from 0-100 km/h (0-62 mph) in under 4 seconds, so it's no slouch.
"It is a rebel with a purpose: to prove electric cars in the future can be sport, sexy, and emotional," states CUPRA CEO Wayne Griffiths.
We can only live in hope that purpose can see the light of day in the not too distant future.