People love military surplus stuff, especially when we're talking planes and choppers.
And just like old army trucks, you can buy these warbirds even as a civilian.
Those aircraft can be sold to anyone who can afford to splash out.
If you've ever thought about getting yourself a supersonic fighter jet, or a Huey heli, we have good news for you.
READ MORE: Driverless car takes off after baffled cops try to pull it over
1. Mikoyan MiG-29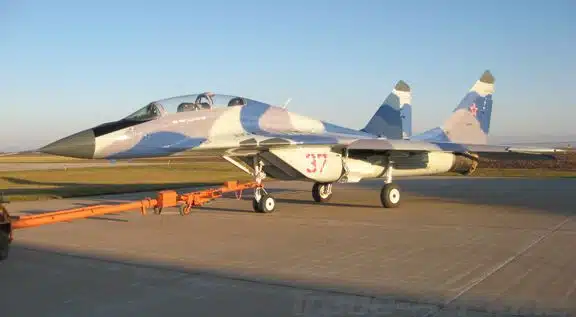 No, you're not reading that wrong. If you have the money you genuinely could get a working, privately-owned fighter jet that screams Top Gun.
READ MORE: Top Gun: Maverick's epic new trailer hints at fall-out from original plot
The MiG-29 has been around for a while (it was originally designed to go up against the now fairly ancient F-15 and F-16!).
But the late Soviet-era jet can still keep up with the current gen of frontline fighter jets.
It's also one of Russia's most popular export aircraft, operated by air forces in India (the first international customer for the aircraft), Ukraine, Serbia, Poland, Iraq, Libya and Sudan among others.
Some were even inherited by the current German Luftwaffe after the reunification of Germany, although those aircraft have now mainly been sold to Poland.
MiG 29s are few and far between when it comes to finding them for sale, but I did manage to find one from 1986 that's going for an eye-watering $4,650,000!
2. Lockheed C-130 Hercules
Having a nimble warbird or an ultra-fast fighter jet might be all well and good, but what if you need to haul some serious cargo?
Well, believe it or not, it's not too impossible to get your hands on older models of the Lockheed C-130 Hercules!
The C-130 is the longest continuously produced military aircraft ever (it's been in production for more than 60 years!).
And it can carry pretty much anything.
The Hercules can also take off and land on short and unpaved landing strips, something that's really impressive considering the aircraft's size!
READ MORE: The world's biggest Hummer is as long as a humpback whale
An early 1960s C-130E like this one here will set you back anywhere from $12 million to $15 million.
3. Bell UH-1H Iroquois/Huey
There's plenty of ex-military fixed-wing aircraft around, but what about ex-military helicopters? Well, you can get those just as easily too!
One type of military helicopter that often ends up falling into private hands is the Bell UH-1H.
The Iroquois (also named the Huey due to its original designation of HU-1) was the first turbine-powered helicopter to be produced for the US military.
There's more than 16,000 and, although they're no longer used by the US army, you can find them operating everywhere from Albania to Zambia.
It's a tough, dependable helicopter that can carry passengers and cargo with aplomb, something that has made them useful for a wide variety of roles from medical evacuation and disaster relief to close air support as a helicopter gunship.
You could end up paying just shy of a million dollars for a really good warbird.
4. Douglas C-47
I can't make a list of military planes without mentioning the C-47.
These have been around for 80+ years and there's a very good reason why. They're tough, dependable and easy to maintain.
And you can take off from even the toughest airstrips.
It's huge inside and can take plenty of passengers or heavy cargo.
There are modern upgrades by a group called Basler – which turns it into the mighty BT-67.
The BT-67 gets modern turboprop engines supplied by Pratt & Whitney Canada and has fuselage modifications to make it stronger, more stable and able to carry more cargo.
You also get modern gadgets like the ones you'd find in a jet airliner.
It will cost you about $250,000 to buy one.
5. Lockheed F-104 Starfighter
Want a fighter jet? How about the infamous F-104 Starfighter.
These planes have a reputation as a 'widowmaker' thanks to various deadly crashes in West Germany.
But the plane has been safely flown in private hands for decades now.
These jets are capable of flying at just over twice the speed of sound and have an iconic stubby-winged design that's made it an aviation classic.
If you just want a decorative piece to stick outside your house, expect to pay not much more than $30,000.
If you want one that fully works and is fully capable of supersonic flight, expect about $850,000.
6. McDonnell Douglas F4 Phantom II
Originally made as a fighter-bomber and a high-speed interceptor, it's a deadly jet.
It's seen action everywhere from Vietnam to Afghanistan but is also still in service with the Iranian, South Korean, Greek and Turkish air forces.
It's also very, very fast, with a top speed of Mach 2.23.
You'll absolutely need a few million dollars to get your hands on one of these military planes (one located in California, which claims to be the only privately-owned one capable of flying, is currently going for $1.5 million).
7. Yakovlev Yak 52 plane
If you want an old-school warbird, this is one of the cheapest options.
Built in Romania from 1977-1998, the Yak 52 was a training plane in the former Soviet Unio/n.
A lot of them have been bought by private owners and it's not uncommon to see a few up for sale at any given time.
It's easy to fly, reliable, great at doing stunts and can even be entered into a single-make aerobatics championship run by the Fédération Aéronautique Internationale (FAI).
This championship, called the World Aerobatic Yak 52 Championship, is typically held in Russia and Eastern Europe.
If you want to get your hands on good military planes like this, be prepared to pay about $40,000-$60,000.
That's pretty cheap for a plane and is way cooler than a Cessna or Piper!
WATCH: