Luxury can mean different things to different people.
For some, it's acres of wood and swathes of leather.
For others, it's all about high-tech kits and the latest gadgets.
Some carmakers tick only one of these boxes, but some manage both.
So, counting down from five to one, these are the most beautiful, tech-savvy interiors in the world.
5. Bentley Bentayga Extended Wheelbase (EWB)
The Bentley Bentayga EWB is the British automaker's grand touring luxury flagship, providing the best rear cabin experience since a Mulsanne.
The EWB builds on the latest second-generation Bentayga, extending the wheelbase and rear cabin space by an extra 180mm.
The Bentley Airline Seat specification is the most advanced seat ever fitted to a car, with 22-ways of adjustment and world's first auto climate sensing system and posture adjustment technology.
It's also pretty special from the driver's seat, too, with the Bentayga EWB powered by a silky smooth 4.0-liter V8 offering immense power on tap.
READ MORE: These are the 10 hottest supercars coming in 2023
4. Pagani Huayra
The Pagani Huayra was introduced in 2011 as the successor to the critically acclaimed Zonda.
With unmatched quality and attention to detail, the Huayra's interior – to put it simply – is the automotive equivalent of a high-end luxury watch.
Everything is made from metal (aluminum or titanium), leather or carbon fiber – there's no plastic in sight.
From its 67-piece gear selector stick to pedals milled from aluminum, the Huayra's breathtaking interior is an absolute work of art.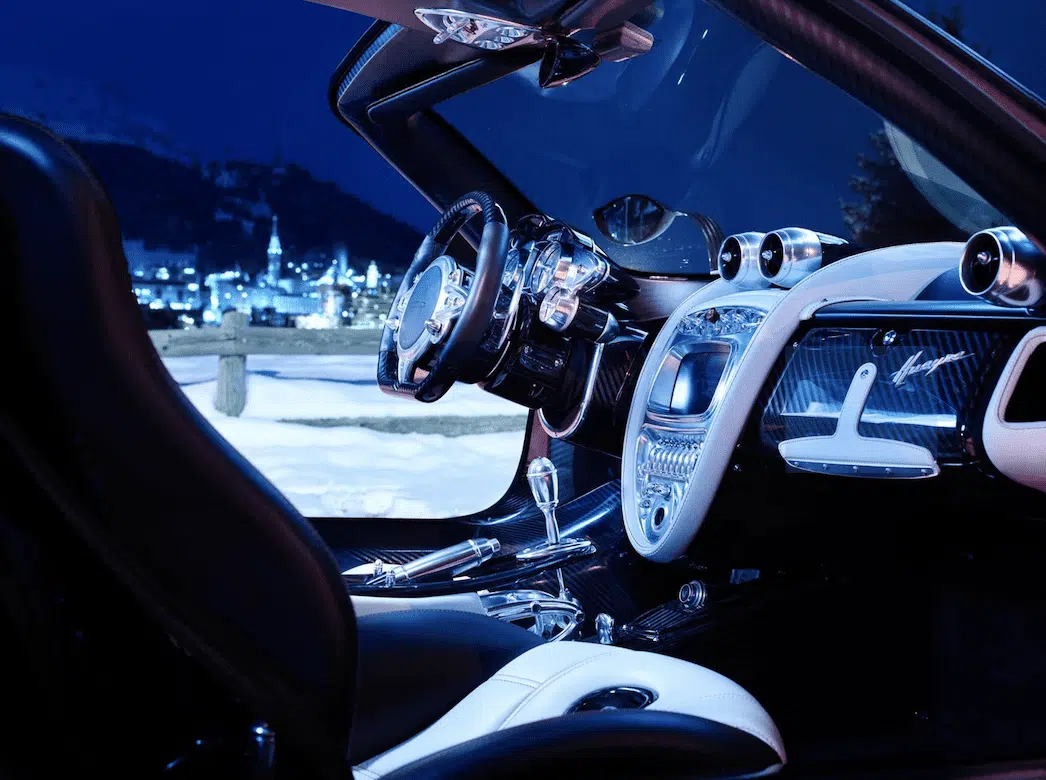 3. Mercedes-Maybach Haute Voiture
The Mercedes-Maybach Haute Voiture is a special edition that's inspired by high fashion.
Along with exclusive blue and rose gold two-tone paint, the Haute Voiture has a uniquely appointed interior with bouclé fabric – a yarn made of looped fibers.
The interior is also wrapped in crystal white leather, while the floor mats are made of linen and mohair – a fiber made from the hairs of the Angora goat.
As with regular Maybach S680 models, the Haute Voiture features all-wheel-drive and a 621hp twin-turbo 6.0-liter V12.
You can watch Alex Hirschi review it here!
2. Bentley Mulliner Batur
The Bentley Mulliner Batur is a two-door grand touring coupe limited to 18 series pieces, designed to showcase its new design language for its EV future.
While the interior is taken from the current Continental GT, the Bentley has applied many high-end upgrades, including the option of 3D-printed parts in 18K gold for the organ stops air vents and the drive mode selector.
Low-carbon leathers and sustainable tanning are used throughout, along with natural fiber veneers, too.
Underneath the Batur's body, Bentley's familiar 6.0-liter twin-turbo W12 has been tuned to produce over 730bhp making it the British brand's most powerful car ever. 
You can see more here!
1. Rolls-Royce Spectre
When it comes to luxurious car interiors, you simply can't go passed Rolls-Royce.
Rolls-Royce Spectre is the world's first ultra-luxury electric super coupé and the firm's very first EV, marking the beginning of its transition to a pure electric lineup by 2030.
For the first time ever on a series production Rolls-Royce, Spectre is available with Starlight doors, which incorporate 4,796 illuminated stars each positioned by hand.
That's in addition to the trademark Starlight headliner, illuminated fascia, and new seats that have been designed with customization in mind, with interior elements such as the door cards available with optional wood Canadel Panelling.
Under its skin, the Spectre's powertrain is derived from that found at the core of the new BMW i7, with an output rated at 569bhp and 664 lb-ft or torque.