This 37.5-meter vessel functions as both a yacht and a submarine.
Designed by U-Boat Worx, the submersible superyacht design was presented at the Monaco Yacht Show last week.
Called Nautilus, the 1,250-ton yacht will be able to dive to depths of 200 meters below the surface and remain underwater for up to four days.
READ MORE! Lamborghini Aventador, Huracan, and McLaren 570S destroyed in Typhoon Hinnamnor
The diesel-electric Nautilus will be able to cruise at speeds of nine knots on the surface, and four knots underwater.
When functioning as a superyacht, the Nautilus will have a massive sundeck with a freshwater pool, a bar, and seating area.
Then when the Nautilus is ready to transform into a submarine, the outdoor entertainment area will retract before it slips below sea level.
CHECK THIS OUT!
Meanwhile inside, the Nautilus has a 50 square meter dining and lounge area surrounded by massive portholes.
Each porthole is basically a massive window that's close to four meters in diameter, allowing for incredible underwater views.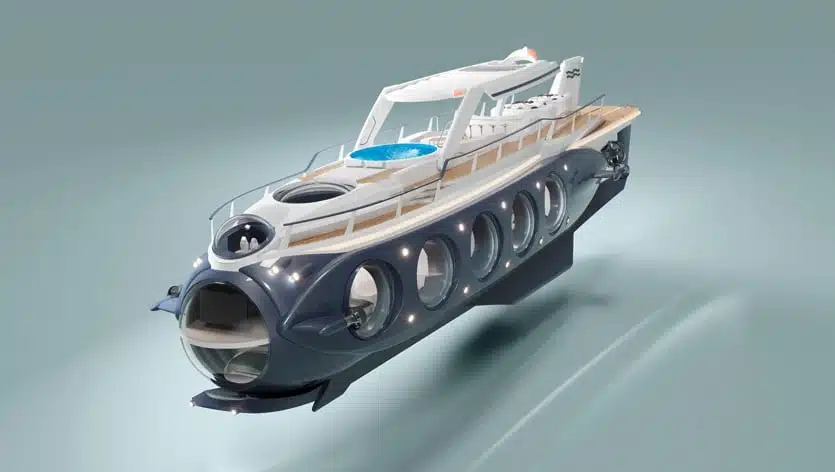 The yacht will have a master bedroom, four guest rooms and sleeping quarters for up to six crew.
The company says the interior layout is also fully customizable.
U-Boat Worx says the Nautilus will have a starting price of $25 million.
While that's no chump change, the Nautilus is unlike any vessel that's come before it.
Ever since Jules Verne's Twenty Thousand Leagues Under the Seas was released in 1870, people have been dreaming up luxury submarines.
Designers have come up with some impressive concepts, but none have ever been realized.
U-Boat Worx says it will change this.
Not only is the submarine yacht concept seriously epic, but it also allows you to avoid crazy weather conditions out at sea.
"If the sea becomes too rough, you simply dive and continue your voyage in comfort," U-Boat Worx Chairman and Founder Bert Houtman said.
"With the Nautilus, the yachting market will never be the same again."