The Tesla Cybertruck has been the subject of rumor and speculation since it was first unveiled in 2019.
So, we think it's time to split fact from fiction to clear a few things up.
Did you know anybody can pre-order a Tesla Cybertruck with a super-low deposit?
And do you remember what happened Musk 'accidentally' damaged the Cybertruck during the first unveiling event four years ago?
From the Cybertruck's crazy features to the bonkers stunts at its unveiling, let's debunk some myths about the Cybertruck.
#1.

Which celebrity has already driven the Cybertruck?
Jay Leno, former TV host and big time car collector, drove an early version of the Tesla Cybertruck in 2020.
#2.

What part of the Cybertruck was famously broken during its unveiling?
Tesla design chief Franz von Holzhausen tested the Cybertruck's strength by hitting it with a hammer.
A few minutes later, he threw a stone at the Cybertruck window to test the bulletproof glass and the glass shattered.
Many have speculated the whole episode was staged to create some extra buzz.
#3.

The Cybertruck was originally supposed to cost...
In 2019, Musk said the Cybertruck would start at $39,900.
Several years and delays later, the Cybertruck is still not here and Musk has warned it will cost a lot more than that.
#4.

What feature was recently added to the Cybertruck?
Even though a production version is still not available, Tesla has already updated the Cybertruck several times.
They recently added a crab-walk feature to rival the GMC Hummer EV.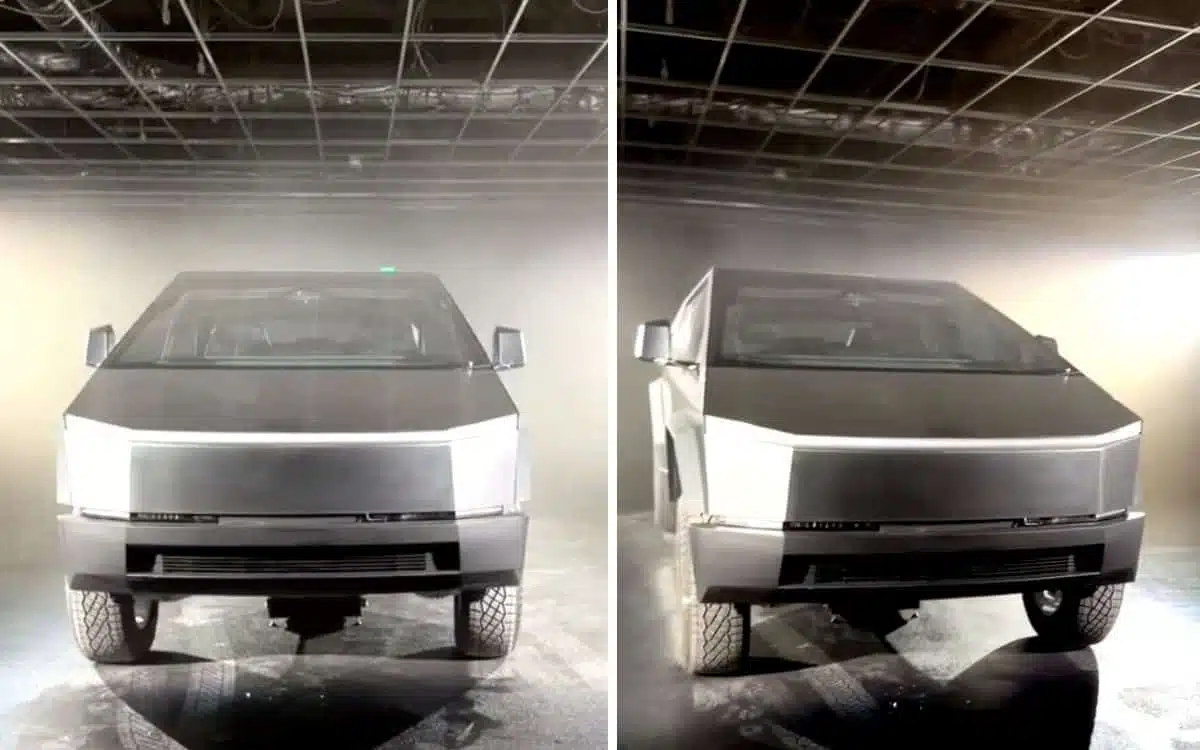 #5.

Only one of these wild claims is actually false
According to Tesla, the Cybertruck has bulletproof windows, a 0-60 mph time of 2.9 seconds and can be (briefly) converted into a boat.
No mention of a refrigerated truck bed, though.
#6.

What type of steering wheel does the Cybertruck have?
Both.
Early prototypes were fitted with a yoke, while the latest versions are equipped with a steering wheel but NO transmission shifter / gear selector.
The production model will likely use a steering wheel, but the yoke one may be available on request.
#7.

How much money do you need to pre-order a Cybertruck?
Just a few weeks after the initial announcement Musk said Tesla had already received 250,000 pre-orders.
This is partly due to the fact that in order to pre-order a Cybertruck, all you need is a $100 deposit.
Results
Excellent work.
You definitely know the Tesla Cybertruck inside out.
Not bad but not great either.
Perhaps you can go over the answers and take the quiz again.
Nailed it? Make sure to check out more of our quizzes here!