The Tesla Cybertruck has just been put through a ditch rollover crash test and the footage of the aftermath is going viral online. 
The video was first posted to TikTok by @ctllogisticsinc but was quickly deleted after it started blowing up on the app. 
But thanks to some savvy viewers who saved it before it disappeared, we have the footage in all its glorious detail.
READ MORE! Cybertruck spotted at supercharger ignites new concerns for would-be owners
In the video, we see the Cybertruck on the back of a lorry, with a sticker on the side that reads 'test, Cybertruck ditch rollover'.
At first glance, the truck looks in good condition, it's only when you look closely that you notice the damage.
The video shows smashed back windows, a bent roof, and slightly bent stainless steel side body panels.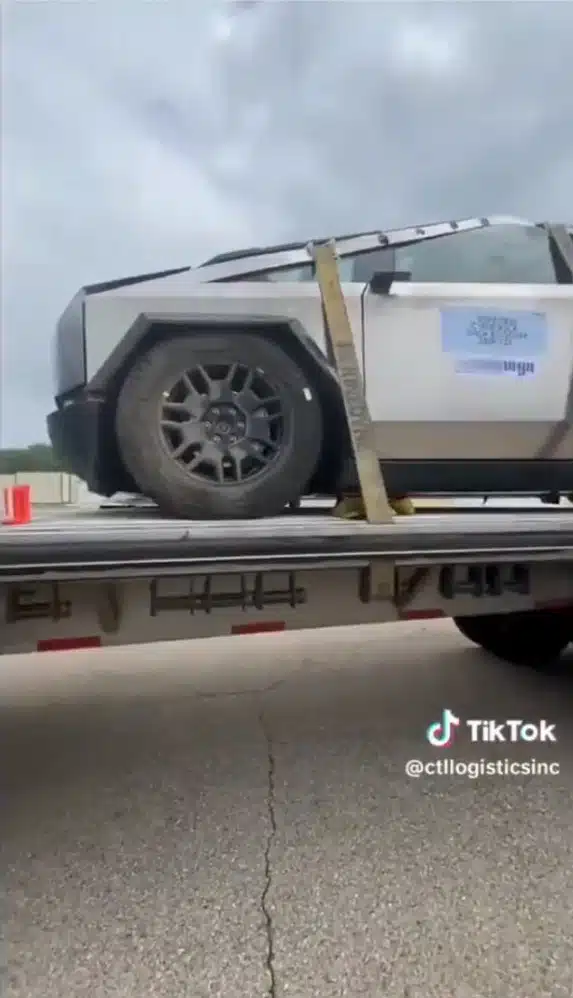 The cameraman then walks around to the back of the truck to show a fairly beat-up trunk.
The truck bed has tears and dents in it, suggesting the frame was deformed in the crash. 
It's also covered in body parts that came off in the test, including the trim from one of the exterior wheel arches. 
The camera then pans around to show the interior of the car. 
And if you look past the debris, the video shows the interior of the truck in all new detail. 
The footage gives us a pretty good look at the backseat, which includes two octagonally-shaped cupholders. 
While there are a few tears and bits of debris strewn around, the interior looks like it held up extremely well.
People on X were pretty impressed too. 
"This is a tank. There is almost no exterior damage," one guy said. 
"That held up well! 
"What crash? It seems almost brand new. 
"I want to see a picture of the other guy. Is the concrete wall completely obliterated?" 
One viewer even pointed out that the Cybertruck's controversial windscreen wiper survived without so much as a scratch. 
You can watch the vid here!
Final specs for the Cybertruck are expected to be revealed at Tesla's delivery event, but we don't have a date for that yet. 
Nor do we have an official release date for the truck. 
Or a price.