DJ Khaled and Jordan Brand have revealed a new sneaker collection dubbed 'We The Best', named after the artist's record label and unofficial motto.
The collection consists of five Jordan 5s, with retro-futuristic pastel hues, available in various shades of purple and pink, blue and white.
And will not doubt send the hype machine into overdrive.
Jordan and DJ Khaled haven't said anything about pricing yet. But the drop will be so exclusive you'll be hard-pressed to secure a pair.
READ MORE: 7 military aircraft you can actually buy – From MiGs to a $15m Hercules
Most Jordan 5 models usually retail for somewhere close to $200, and they are hard to get your hands on.
The resellers will be pushing prices sky-high for the new collab.
For a bit of perspective, a pair of DJ Khaled x Air Jordan 3 Retro 'Another One' shoes are selling on GOAT for US$35,000 (there's a pic a bit further down the page of them).
DJ Khaled is a New Orleans-born American DJ and record producer of Palestinian origin that made a name for himself by working with top-notch rappers such as Fat Joe, Jay-Z, Lil Wayne and Rick Ross in the mid-2000s.
He spent the first few years more or less behind the scenes but he then began appearing in music videos, often using two iconic catchphrases: "Another One" and of course "We the best".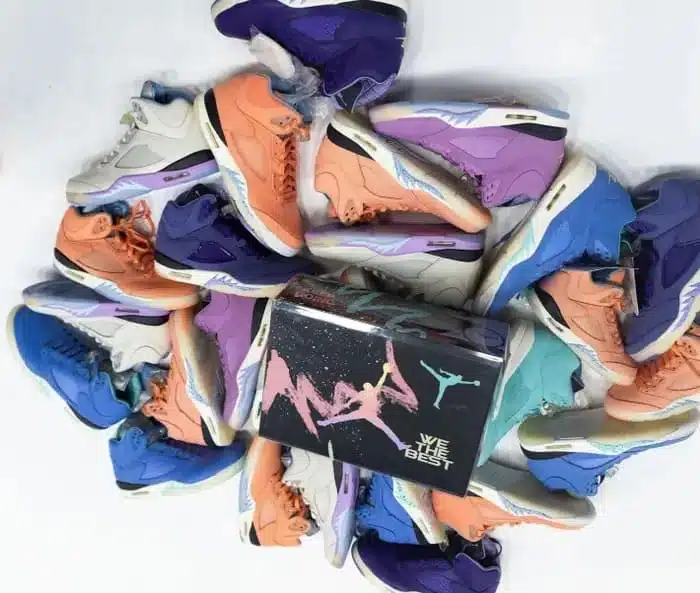 As for Jordan, the brand doesn't really need an introduction, does it?
Officially known as 'Air Jordan', the brand was founded by Nike in 1984 as the signature collection for the GOAT, Michael Jordan.
The name itself is a reference to MJ's 'aero' abilities on the court.
Nowadays it could also be linked to his net-worth – which continues to climb thanks to the Jordan Brand's mass appeal.
Jordan is worth about $1.6 billion which makes him the richest former pro athlete ever.