Drake's $185 million private jet has just been spotted at Mirabel Airport. 
The Boeing 767 jet, named Air Drake, was overhauled by late fashion designer Virgil Abloh in 2020 – lending to its astronomical price tag. 
But Drake didn't really need to count his pennies when it came to this makeover, because the jet was given to him for free.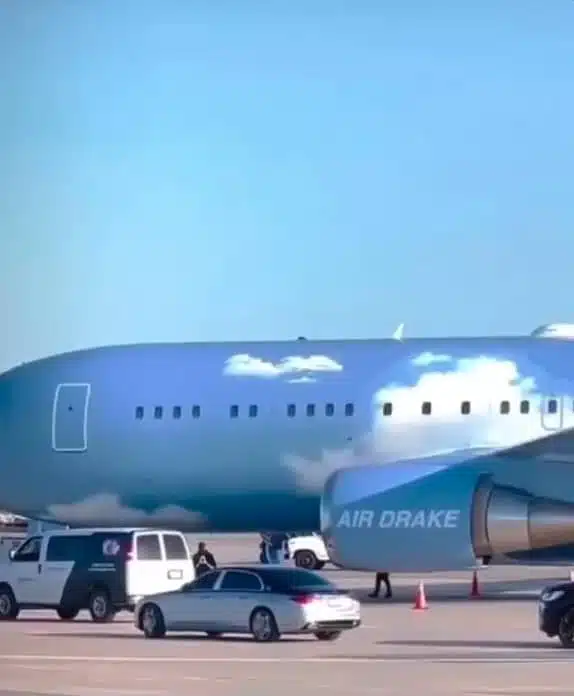 READ MORE! These are the 5 most expensive celebrity-owned private jets
Virgil Abloh, who was the creative director of Louis Vuitton before he died in 2021, worked closely with Drake to turn this jet into a one-of-one aircraft.
When redesigning the massive Boeing 767, Abloh took inspiration from the cover art of Drake's hit album, 'Nothing was the Same', which featured blue skies and white clouds. 
Drake's since given us a sneak peek inside the plane, posting a photo of him in the cockpit to his Instagram.
"My plan is to touch the sky 1000 more times for you… love you eternally brother, thank you for everything," he wrote as a tribute to the late designer. 
Aaccording to reports, the Canadian rapper didn't have to drop a single penny on this Boeing 767. 
It was a gift from Canadian airline Cargojet. 
Despite being valued at $185 million, the airline believed it would pay for itself in publicity. 
This is what the jet looked like before Virgil Abloh got his hands on it:
Drake's Boeing 767 is one of the most expensive celebrity-owned private jets in the world. 
It's followed by Kim Kardashian's Gulfstream G650ER which is priced at a cool $150 million. 
And like Drake's jet, the exorbitant price is largely due to the makeover she gave it. 
After she bought it, Kim overhauled it to match her all-white house and car collection. 
Now the jet, which has a sleek white exterior, is also covered in white leather and cashmere inside. 
"I never dreamed I would own a plane," she said.
"I just wanted it to feel like it was an extension of me and an extension of my home."