Jacob & Co has designed a one-of-one Hermès Bugatti Chiron watch.
The watch was designed to match car collector Manny Khoshbin's $4 million Hermès Bugatti Chiron.
Khoshbin unboxed the Hermès watch on Instagram this week, revealing the incredibly intricate detail the team at Jacob & Co put into it.
READ MORE! Inside the secret Jacob & Co. vault where celebrities and billionaires shop
The watch was designed to mimic Khoshbin's one-of-one Hermès Bugatti Chiron, with a Craie off-white paint job and rose gold components.
"I just wanted to really put the focus on the engine, so I went with rose gold for all the pistons and left everything else in silver, Craie, and red," he said.
"I think it came out amazing."
CHECK THIS OUT!
Incredible detail also went into the back case.
It has a detailed horse pattern to match the interior and rear wing of Khoshbin's Hermès Bugatti.
And from the side of the watch, you can see a red spring and a little French flag.
Watch Supercar Blondie's Alex Hirschi check out the Hermès Bugatti Chiron here!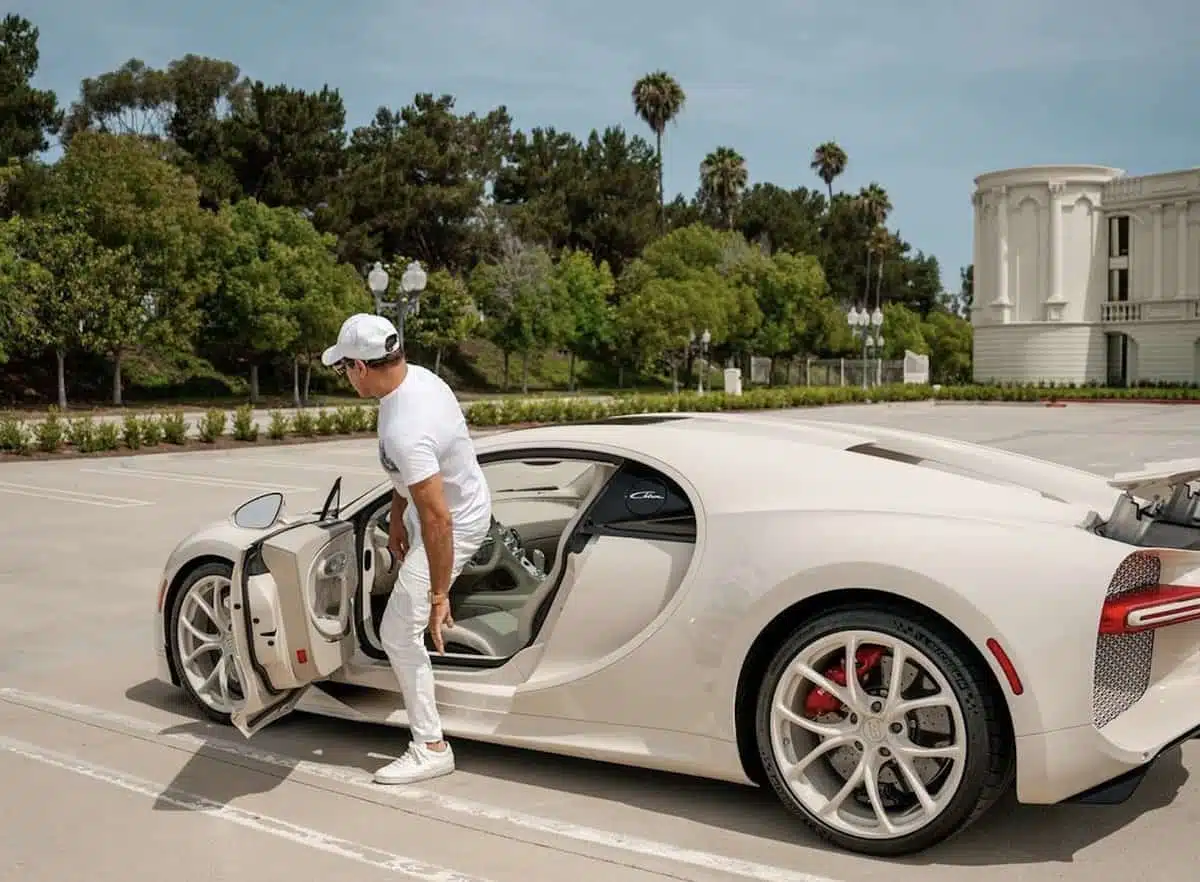 Bugatti watch price
The standard Bugatti Chiron Jacob & Co watch is priced at $1.3 million and varies depending on which gems you choose to include.
With this in mind, Manny Khoshbin's timepiece is no doubt priced well above that million-dollar price point.
Jacob & Co watch vault
Supercar Blondie's Alex Hirschi got a look inside the Jacob & Co vault where they keep the Bugatti Chiron watch in all its variations.
You can watch that here!
About the Bugatti Chiron Tourbillon
Jacob & Co collaborated with Bugatti to create what can only be seen as a supercar in watch form.
The $1.3 million timepiece has a real 16-cylinder engine crafted inside it.
The 'Bugatti engine' is created under a massive sapphire crystal – meaning it's on full display.
And the engine comes to life when you push the right-hand crown.
The crankshaft turns and the pistons pump up and down like a true internal combustion engine.
Two 'turbochargers' also spin while the engine runs.
Incredibly complicated, the movement is made up of 578 individual components.