Keeping Up With The Kardashians isn't just a reality show, it's an expensive philosophy – and we all love to know what the Kardashian Jenner women are splashing the cash on.
From sartorial investments and highly collectable works of art, to planes and automobiles – they spend it well.
We take a look at the most opulent, expensive and completely outrageous purchases of the Kardashian Jenners to date.
Private planes
READ MORE! Kim Kardashian still not allowed to build her epic 'spaceship' megamansion
Cost: $150 million & $72 million
One of the most exclusive and expensive airlines in the world, Kim Air bought a custom Gulfstream G650ER aircraft in 2021.
With a cruising speed of 516 knots or 594mph (955km/h), it's powered by twin Rolls-Royce BR725 A1-12 engines.
The overhead baggage compartments, ceiling, headrests and pillows are covered in ecru cashmere with sleek light wood accents.
All passengers are given a pair of SKIMS slippers and pyjamas upon boarding.
Not to be outdone by her older sister, Kylie purchased a Global Express jet for $72.8 million in 2020.
59.6 feet long and eight feet wide, its similarly neutral-colored seats are monogrammed with mood lighting across the ceiling to set the tone of travel.
Gold toilets
Cost: $750
The Kardashian West's marital home was full of luxury appliances, but perhaps the most infamous of all were the golden toilets in 2013.
And what could be more luxurious than four gold-plated toilets.
The luxury loos were the thrones of their 9,000-square-foot $11 million Bel Air mansion.
They sat alongside a Swarovski-encrusted fridge freezer and $1 million worth of Electrolux appliances.
The estate was sold for $17.8 million in 2017.
Little sister, Kendall Jenner's LA home followed the precious bathroom trend with a gold bathtub that she claims to use "at least three times a week" that set her back $40,000.
Handbag collection
Cost: $1 million +
After sharing a YouTube video showing off her designer purse collection in 2018, the youngest Kardashian Jenner, Kylie, faced backlash.
The comments have since been turned off.
Kylie's walk through revealed dozens of Hermès Birkin, Louis Vuitton, Chanel and Prada bags.
She also boasts an extensive collection of quirky Judith Leiber purses – which mom Kris and sisters Kim and Khloe are also partial to.
She faced the same criticism this year after flaunting a $300,000 Faubourg Birkin gifted for her 25th birthday but she hastily deleted that TikTok.
Read about Kylie finding a $41,000 Rolex at the bottom of her handbag here.
Louis Vuitton Music Box
Cost: $3,650
Described by the brand as "the most poetic of gifts, this mini-trunk in iconic Monogram canvas opens to reveal Louis Vuitton's charming Vivienne figurine dancing to music.
"A delight each time the lid is lifted, it is also a functional object, which can be used to store trinkets and decorate the home," it said.
Savvy momager and mother hen Kris, famously gets 10 percent of her daughters' business ventures.
However, she also loves spoiling her growing brood of grandchildren.
This monogrammed and fun music box was a gift for Chicago West's first birthday.
James Turrell artwork
Cost: $750,000
Aside from spending on her $8.5 million Los Angeles home, this supersized James Turrell art piece is a true investment.
Animated by shifting, computer-programmed LED lights, the ovoid wall sculpture appeared at the Guggenheim museum.
"I've always been a huge Turrell fan," she said to Architectural Digest in 2020.
"I was introduced to his work by [my brother-in-law] Kanye [West], who collaborates with him.
"I wanted this piece to be a focal point of the house, and I'm so hyped to have it here," she said.
Fendi stroller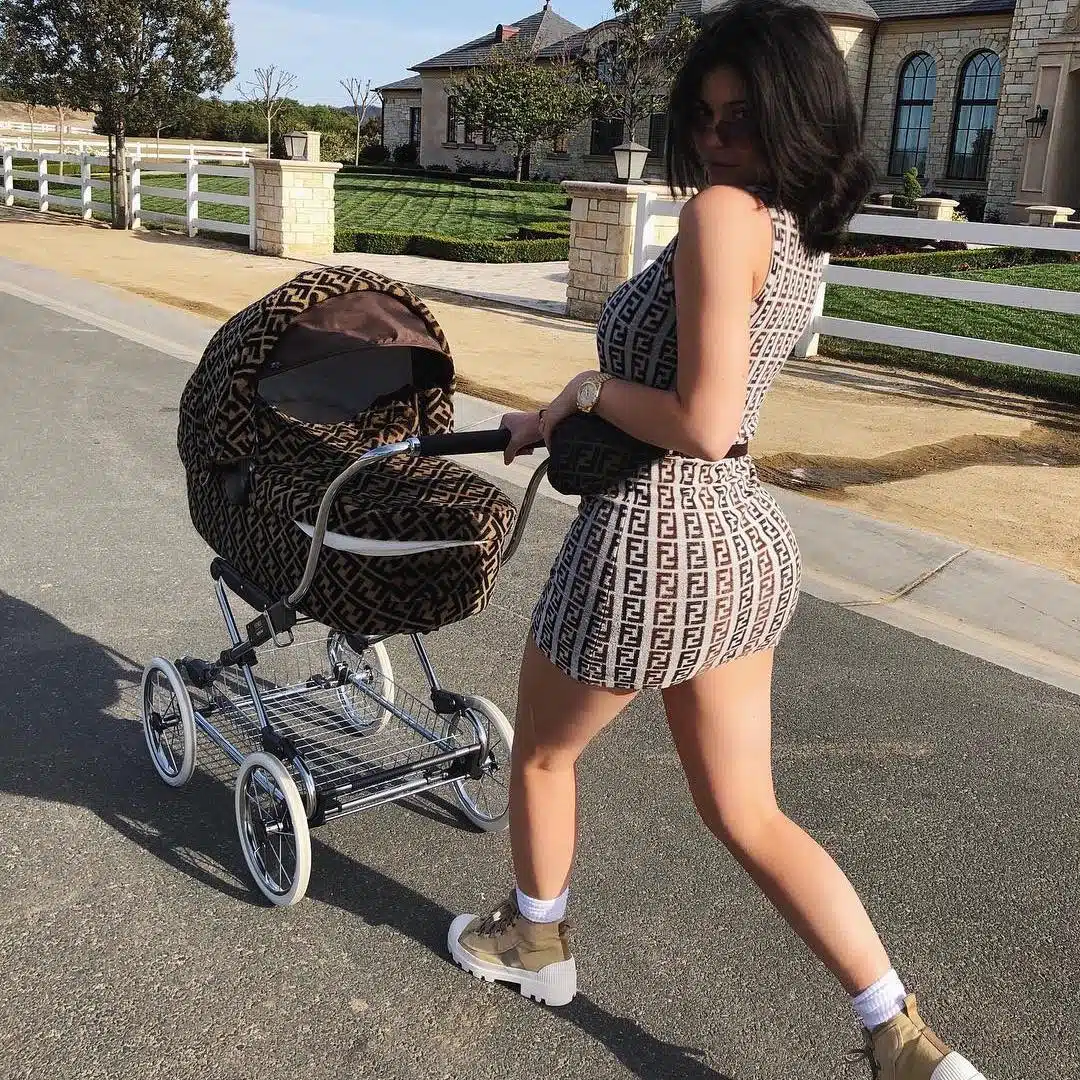 Cost: $12,500
When little Stormi Webster was only two months old in 2018, new mom Kylie Jenner posted a photo of a mother and daughter stroll.
But it wasn't your average baby equipment – the Fendi Baby Brown FF Logo Stroller was runway-ready with Kylie dressed to match.
Kylie captioned the pic "stormi strolls 🤑" on her Instagram, with the money face emoji suggesting she knew it was a flex.
Rolls-Royce Ghost Black Badge
Cost: $500,000
The Kardashian Jenners clan love the Rolls-Royce brand.
Khloe Kardashian's Rolls-Royce Ghost set her back half a million dollars in 2022, taking her car collection to the next level of luxury.
Painted white with a monochrome interior, it can reportedly go from 0 to 62 mph (0-100 km/h) in just 4.8 seconds.