Yet another Grand Theft Auto leak has happened with the GTA VI map leak thrilling impatient fans.
As well as plot leaks and a trailer, the map has got fans seriously excited about the enormous scale of the open world.
GTA VI seems to feature over 100 locations to explore.
READ MORE: Another Grand Theft Auto 6 leak suggests there'll be multiple states, and even countries, to explore
With GTA V released way back in 2013 with an island to explore, expectations for Rockstar Games' new open world are high.
Especially since GTA VI is being built for next-gen hardware to its predecessor.
It will be released on the Xbox Series X/S, PlayStation 5 and PC at a later date.
The latest in a slew of spoilers, a document recently appeared online listing basically every GTA VI leak.
When it comes to game locations, the insider info suggests that GTA VI will include over 100 explorable locations.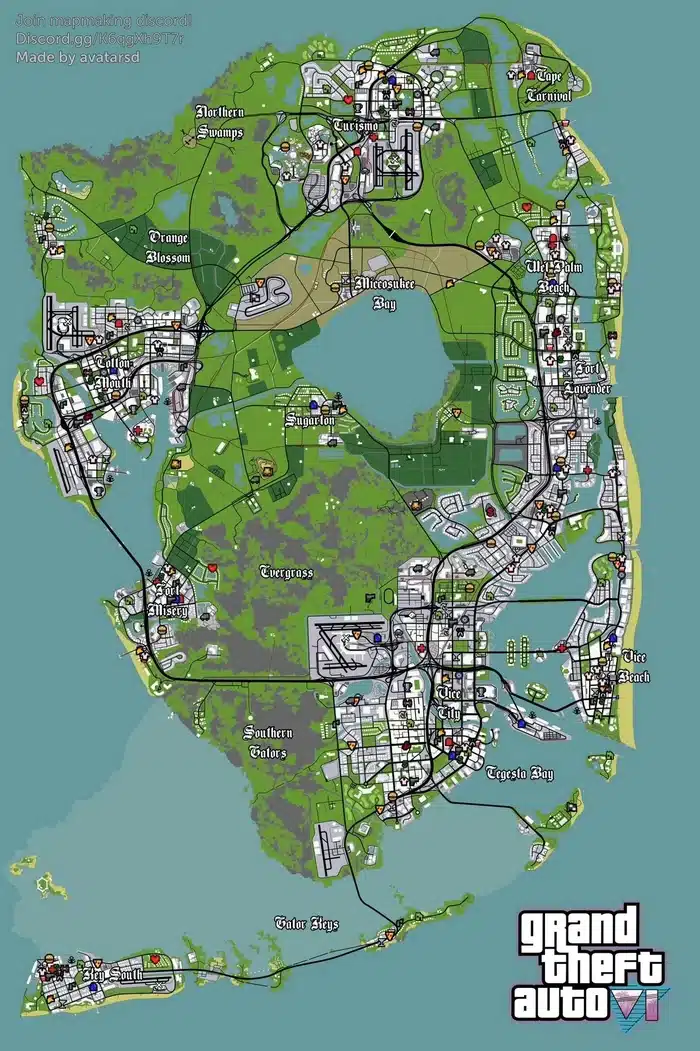 The place to be on the GTA VI map leak seems to be a classic: Vice City.
This is where the majority of story and gaming content will happen.
However, the gameplay leaked suggests it's still a work in progress.
Following its OG inclusion in GTA: Vice City, the virtual metropolis will include some of the same locations.
However, several other IRL landmarks from Miami – the city it was inspired by – have also been added.
The GTA VI map leak also signposts some new areas.
These include Port Gellhorn, Keys, Sundown, Ambrosia, and Redhill to name a few.
And if land isn't territory enough to explore, you can also head beneath the waves.
Similar to GTA V, there'll be submarine and diving equipment.
The spoilers includes Underwater Ruins, an Underwater Research Facility, and a Whale Graveyard.
Provided the leaks are credible, GTA VI could take hundreds of hours to explore, blowing the island of GTA V and Red Dead Redemption 2 out of the water – pun fully intended.
GTA VI is thought to be launching in 2025 with an exact date TBC.