The world's very first space hotel is set to open in 2027.
The brainchild of Above Space (formerly Orbital Assembly), the hotel will float above the Earth's atmosphere.
This isn't for astronauts either, the hotel is strictly for everyday people (with money) who want to tick space off their bucket list.
READ MORE! From an underwater villa to a suite inside a Boeing airplane: these are the craziest hotels in the world
Built to accommodate 28 people, the hotel will offer a totally new experience.
Unlike current space stations for astronauts, the Above Space hotel will have simulated gravity.
And with different settings, guests will be able to choose how much gravity they want to experience during their stay.
Above Space is yet to reveal what it will cost, but considering the going rate with Virgin Galactic ($450,000) and SpaceX (last cited at $55 million!), we can hazard a guess it won't be cheap.
Above Space has even more ambitious plans too.  
Not only does it plan to build the 28-person space hotel, it's also revealed plans for a second space station called the Voyager.
The Voyager will be similar but a lot bigger.
In fact, they plan to make it big enough to house up to 400 guests.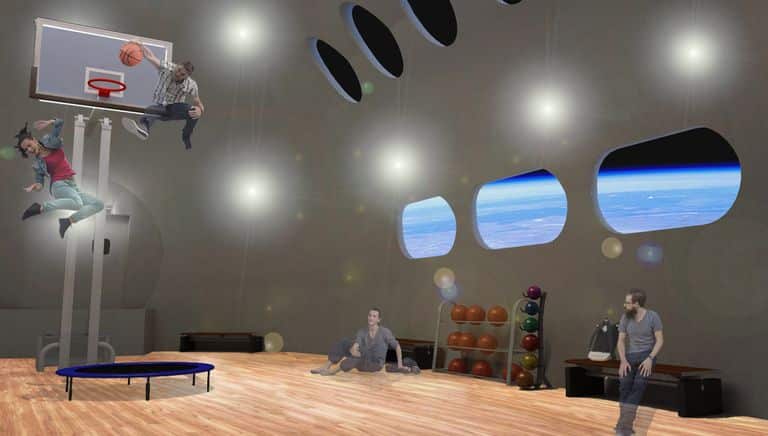 The company says the suites in this hotel will be available to buy and live in, not just book for a one-off stay.
"Our luxury villas are anticipated to be up to 500 m2 (5,300 square feet)," the company says.
"They will feature cooking facilities, up to three bathrooms, and sleeping accommodations for up to 16 people."
The luxury apartments are also set to be designed by Hilton, so you'll be floating above the earth's orbit in comfort.
While it's a hugely exciting plan, there are still a lot of unanswered questions about the space hotel.
Aside from price, there is no word on what the voyage from Earth will look like or if guests will need to undergo extensive training before they launch off.