This guy has built a real-life version of the Krabby Patty car from The SpongeBob SquarePants Movie.
The build process is crazy, but what happens after is even crazier.
He takes it on a 402km (250mi) road trip across the US.
And because he is driving in a hamburger, of course he is pulled over by the police.
READ MORE: Meet the guy who is building an 8-meter Battlestar Galactica spaceship in his shed
YouTuber President Chey actually built it to surprise his friend because they were both massive Spongebob fans when they were kids.
Chey started out the project with a golf cart from a junkyard to use for the chassis.
He also bought a cheap Kawasaki motorbike to take the 750cc engine out of it.
With it making 120hp, the Patty Wagon (as it's officially known) would be twice as powerful as a comparably-sized Smart car.
CHECK THIS OUT!
Once the engine was welded into the golf cart frame, Chey and his father set about building the body from foam and fiberglass.
They then painted it to look just like the Patty Wagon from the film, which was based on the Krabby Patty burger.
Once the build was done, he planned a long road trip to surprise his friend.
The drive would normally take five hours by car, but in the Patty Wagon, it took him a long 20 hours.
Along the way, his surprise was nearly ruined as videos of him driving around in the four-wheeled Krabby Patty went viral.
He was even pulled over by the cops, although fortunately, they mainly wanted to get a closer look at it, rather than ticket him.
After a breakdown around the halfway mark, he eventually made it to the beach.
There, he gave his friend the surprise he'd planned for months.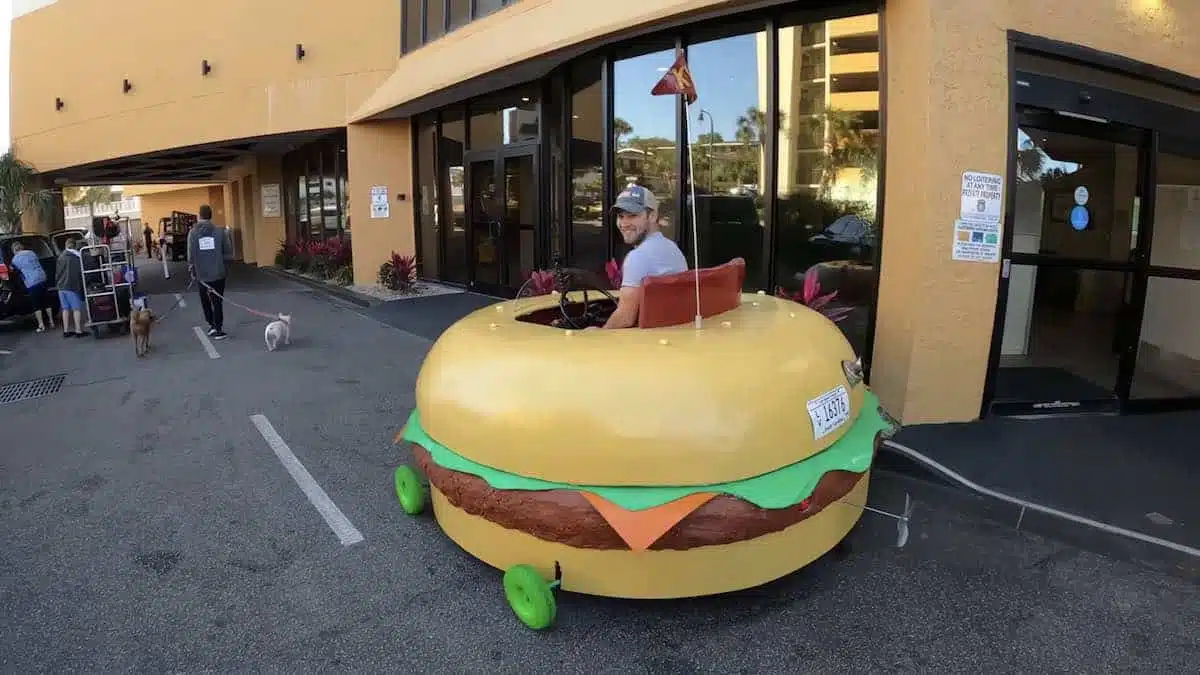 While it's always cool to see static displays of movie props and cars, it's even better to see working models.
Getting to watch someone drive a Krabby Patty car on a 20-hour road trip? That's priceless.