Drake famously spends a significant amount of his yearly income on flashy watches.
And while most of us would be satisfied with one or two pieces, Drake isn't most of us.
He changes his wristwatches like they're socks, and over the years the rapper has amassed an impressive collection of unique and eye-catching timepieces.
READ MORE: Drake drops HUGE money on Tupac Shakur's ring
Patek Philippe Nautilus Customized by Virgil Abloh for Drake
The starting price for a watch by luxury designer Patek Philippe is $36,000.
But this style, the Nautilus 5726, retails for between $170,000 and $204,000
And we suspect that this particular timepiece is now worth way more than that.
The late Virgil Abloh took the brand's Nautilus design and customized it with a wild amount of emeralds, especially for Drake.
After Abloh died, it became not just an expensive watch but an invaluable and irreplaceable work of art.
There are only two in existence, with the other bejewelled piece belonging to Abloh's estate.
Rolex Day-Date customized by Chrome Hearts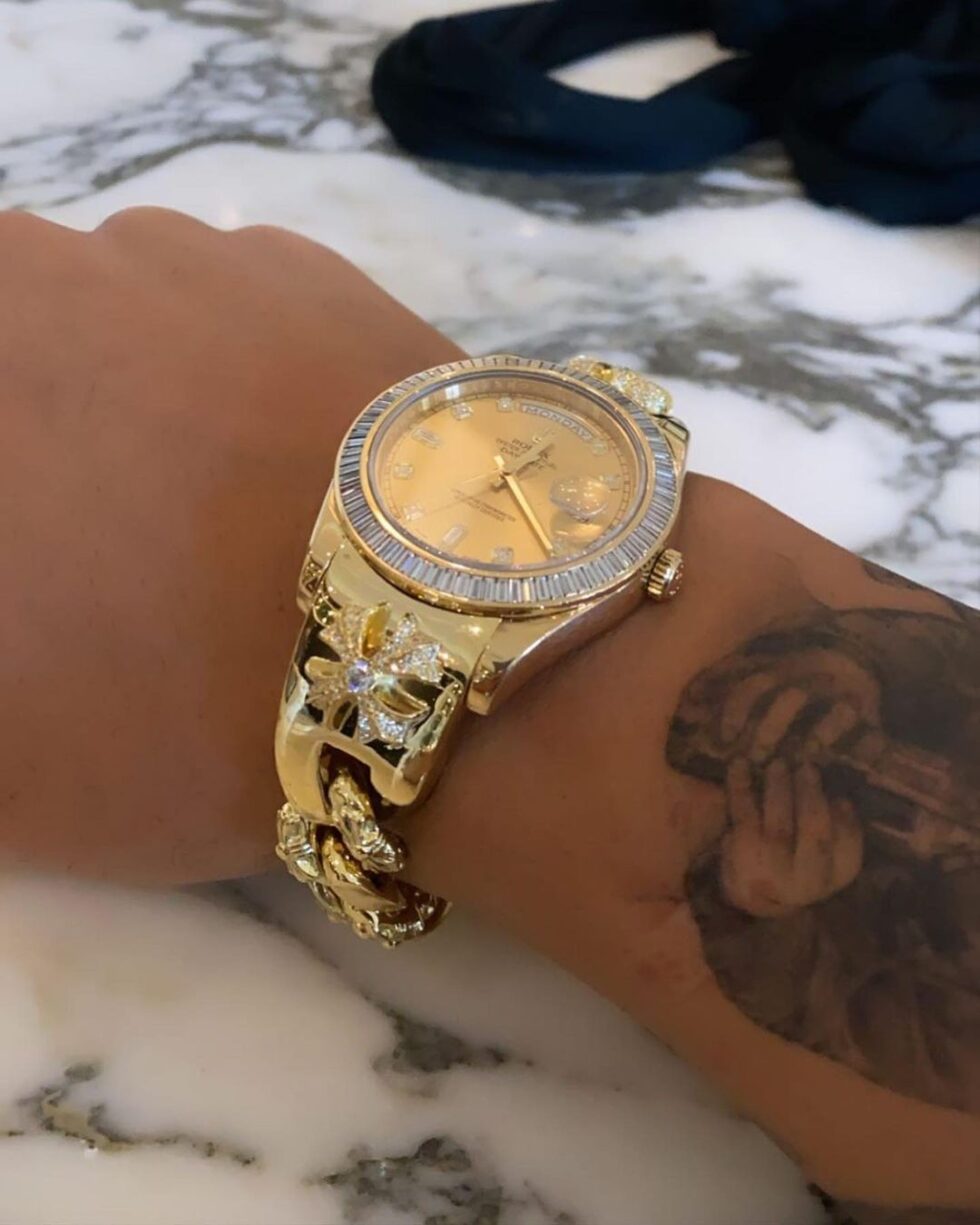 Reviews were mixed on this custom piece, with some calling it 'gaudy' and 'tasteless'.
LA design house, Chrome Hearts, took a classic Rolex Day-Date and made it way more Drake-appropriate.
The bezel has been covered with baguette-cut diamonds and the bracelet has trademark Chrome Hearts elements, like gothic crosses, and plenty of extra diamonds.
A Rolex like this can cost as little as $10,000, but with these upgrades, this piece is estimated to be worth $200,000.
Jacob & Co Astronomia Casino
It's a well-known fact that Drake loves gambling.
The hobby must be made a whole lot more fun when you've got that much capital to play with.
One of his timepieces pays homage to this pastime in quite an over-the-top way.
This watch has a fully operational miniature roulette wheel, so Drake can play his favorite game wherever he wants.
There is also a globe which rotates on itself every 30 seconds and a Jacob-cut diamond with 288 facets.
Oh, and it also tells the time.
There are only 88 of these in existence, and they cost around $566,000 each.
Patek Philippe Nautilus Rose Gold
While some save their expensive pieces for fancy events, Drake wears his to a different kind of catwalk: sitting courtside at a basketball game.
He has been spotted wearing a particularly blinged-out watch while watching his beloved Toronto Raptors.
This is another Patek Philippe piece which is extremely rare and valued at an astounding $600,000.
There are 803 diamonds on the bracelet alone while the watch face carries 255.
In total this piece is set with 1,343 diamonds.
Richard Mille 69 Tourbillon Erotic
Drake rose to fame for his emotional lyrics.
Now that he's made it big, he is a bit more tight-lipped about his romantic desires.
But one of his watches allows him to express a bit of the old Drake in a cheeky and light-hearted way.
This limited edition piece has a set of three rollers that display a number of suggestive phrases.
Wearers can set the racy rollers to read whatever they want.
This ranges from the relatively tame ('I want to kiss you tonight') to the wildly inappropriate, as was spotted on Drake's wrist while watching the NBA finals.
This unique piece is priced at $850,000.
Richard Mille's custom birthday watch for Drake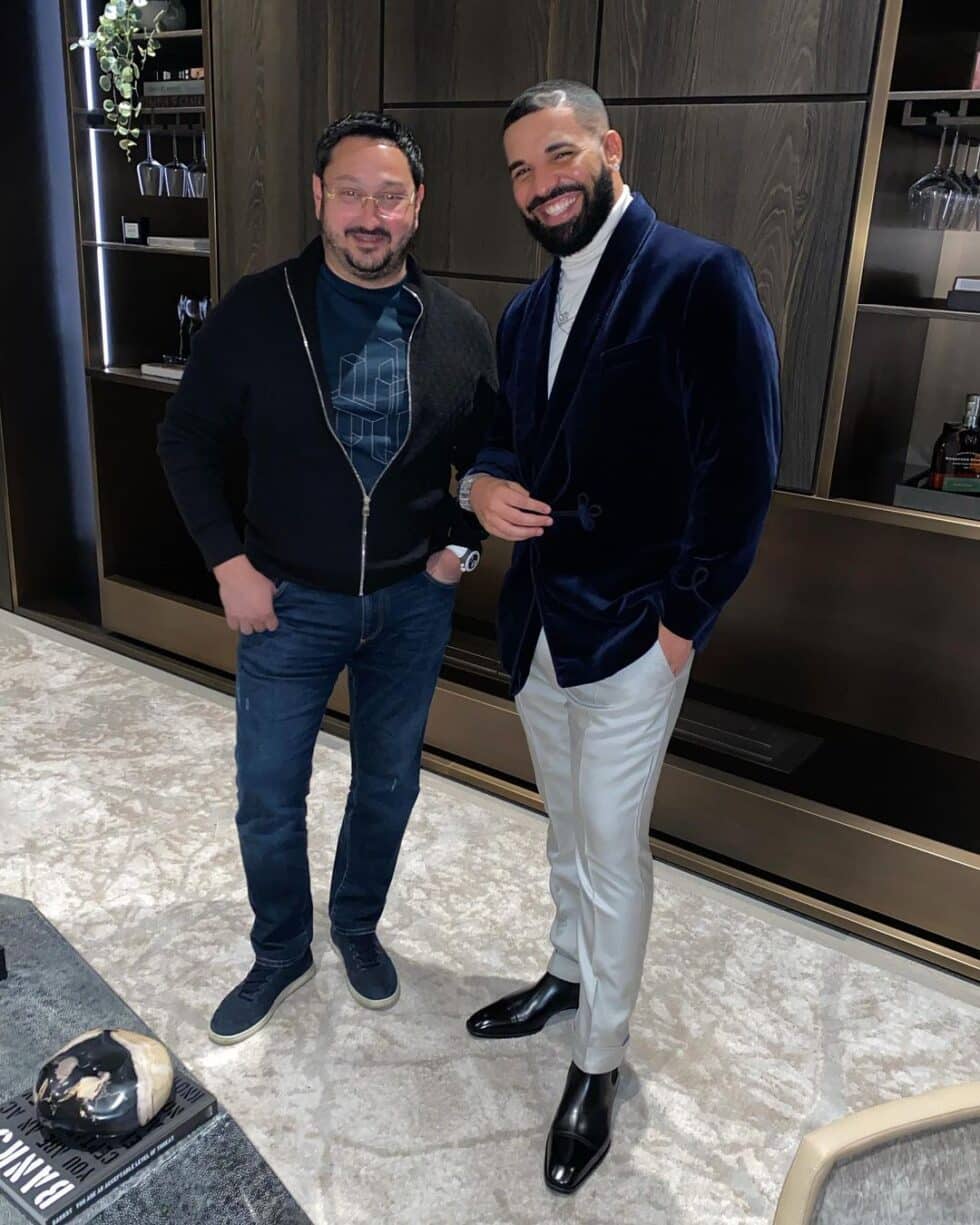 Dave Bling hooked the Hotline Bling singer up with a very special piece for his 35th birthday.
This custom-made watch features an entirely see-through sapphire back.
It also has a tachymeter, for measuring the speed of a vehicle.
However, how anyone can read this busy watch face is beyond us.
But with this watch costing $5 million Drake can afford to consider this a wearable work of art and just check the time on his phone.
Never one to blend into the background, Drake also wears his watches in an unusual way.
He's always worn them on his right wrist, instead of the conventional left.
Just in case all those diamonds weren't unique and eye-catching enough.