Jacob & Co. gave us an exclusive glimpse into its new store at Dubai Mall.
It's like Disneyland for 'bling' lovers, with over $20 million worth of watches and jewels.
Supercar Blondie's Alex and Domi paid a visit – check it out.
READ MORE: Jacob & Co to take over Dubai's skyline with record-breaking skyscraper
Let's start with the 'affordable' items.
Domi had the chance to wear a gorgeous gold ring adorned with a 9-carat yellow diamond.
This one 'only' costs $500,000.
CHECK THIS OUT!
She nearly fainted when the price was revealed but that's okay, because two seconds later she wearing another ring.
This chunky ring features a 30-carat emerald stone and is festooned with diamonds all around the green stone.
And this one costs $5 million.
Jacob & Co. watches
First and foremost, we have to start with the new Batman watch.
This watch is a collab between Jacob and DC, and it's fitted with a twin triple-axis tourbillon.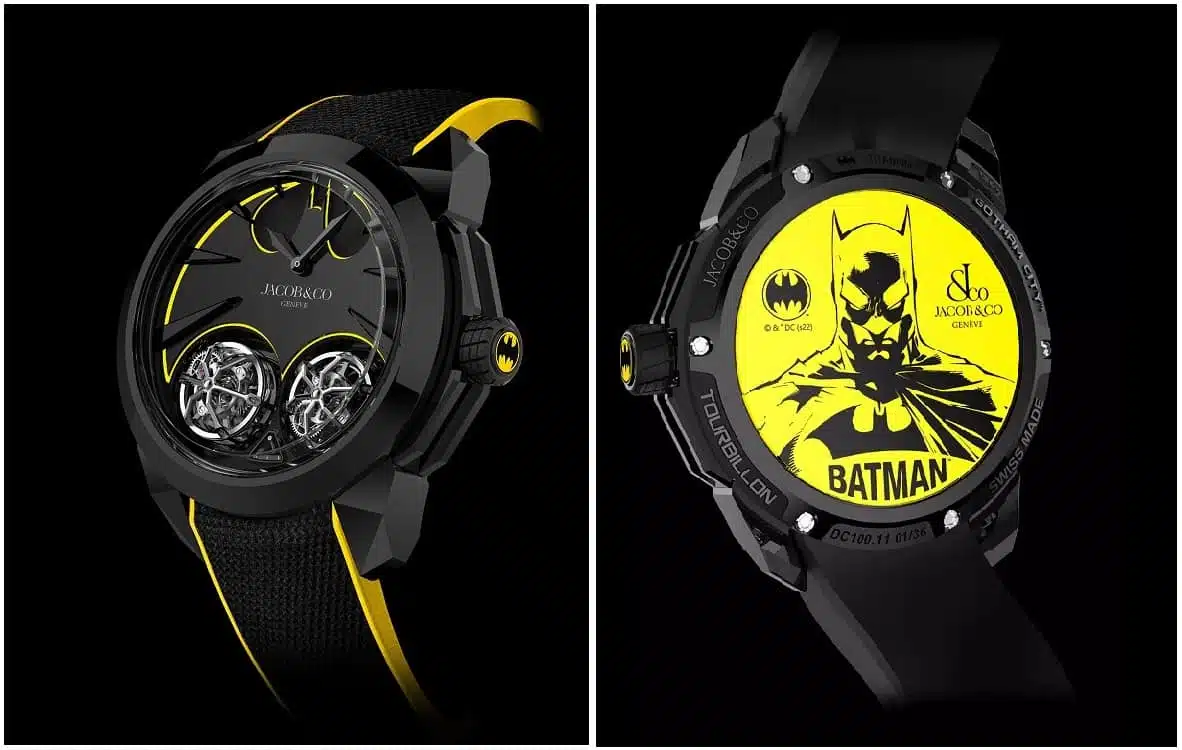 This, by the way, is just about the most complicated thing to put on a watch.
Or just another day at the office for Jacob.
Only 36 pieces were made and this one's the only one that's still available – priced at $250,000.
Next, we've got the Bugatti Jean, named after Ettore Bugatti's eldest son and inspired by the Type 57 from the 1930s.
Production is limited to 57 pieces, priced at $250,000.
We're wrapping it up with a truly special timepiece.
Jacob & Co. teamed up with Bugatti to reveal a new timepiece every year and this is the first model.
At the 6 o'clock you've got a 'fuel gauge', which is actually the power reserve indicator.
On the lower side of the face there are two tourbillons, each representing a turbo.
This is also a chronograph: the lever located on the right-hand side of the dial allows you to regulate the timer.
After that, you can press the pusher on the left hand side so set a new lap time.
This timepiece is special and ultra-expensive – it retails for $800,000.
Unless you want the diamond version, in which case you have to be ready to fork out $1.3 million.
UAE Edition for Jacob & Co. Dubai Mall
This is a one-off, or pièce unique in watch jargon, created for the Jacob & Co. store at Dubai Mall.
Aptly named Jacob & Co. UAE Edition, it's a tribute to Dubai and the United Arab Emirates.
More to the point, it is part of Jacob's Art Astronomia collection, and it's a way to showcase what you can do using an Astronomia as a blank canvas.
Name any color, material, or complication – and Jacob will do it for you.
Being a love letter to Dubai, this one features the Burj Al Arab, Burj Khalifa, and Emirates Palace on the dial.
It also has an incredible 288-facet diamond.
In order to craft this stone, Jacob actually had to cut a 4-carat diamond into a perfectly round shape.
It's a patented technology invented by Jacob & Co.
And the price?
A timepiece like this will set you back $600,000.