Jay-Z is just one of a number of celebrities using private jets for convenient travel.
Why? Obviously because they offer luxury, privacy, not to mention speed and flexibility.
In fact, the rapper owns a Bombardier Challenger 850 private jet, one of the best on the market and, of course, it's far from average.
READ MORE! Jay Z's Maybach Exelero is one of the rarest cars in the world
Apparently, the 53-year-old's wife, Beyonce, dropped $40 million on the jet as a Father's Day gift.
Now, we're not questioning Hova's parenting skills for one minute, but a $40 million jet is some gift.
Then again, the couple do have a staggering net worth.
Anyway, one of the most important things about flying private is the privacy it offers.
That's why the aircraft owned by Jay-Z has its own master bedroom for the rapper, boasting a king-size bed with extra padding around the edges for comfort and safety.
Perfect really, as it allows Jay-Z and Beyonce to rest up while traveling across the globe – a necessity with such busy work schedules.
As well as a mater bedroom, the jet also sleeps up to seven passengers, which is especially helpful considering the Bombardier Challenger 850's range of 5,455 kilometers (3,390 miles).
The 87-foot long aircraft can seat up to 16 passengers, which is ample room for Jay-Z, his family and entourage.
The main section of the cabin features a table that seats four, roomy passenger seating, and a spacious divan.
But, unlike a commercial aircraft, were the food is made ahead of time, the Jiggaman's jet has it's own full kitchen.
No preztels or peanuts served here – passengers can have pretty much whatever takes their fancy.
The kitchen includes all the amenities needed to cook a delicious meal, such as a sink, fridge, cabinets, counter space, and more.
Furthermore, there's a bar stocking the finest alcoholic beverages.
And when nature calls, there's two full bathrooms on board – one in the front and one in the back.
Unlike the bathrooms on commercial planes, the bathrooms on Jay-Z's jet are spacious and include showers, sinks, mirrors, and a toilet.
The private jet also features a large forward galley, as well as a center lounge that turns into an entertainment room, lounge, or stateroom.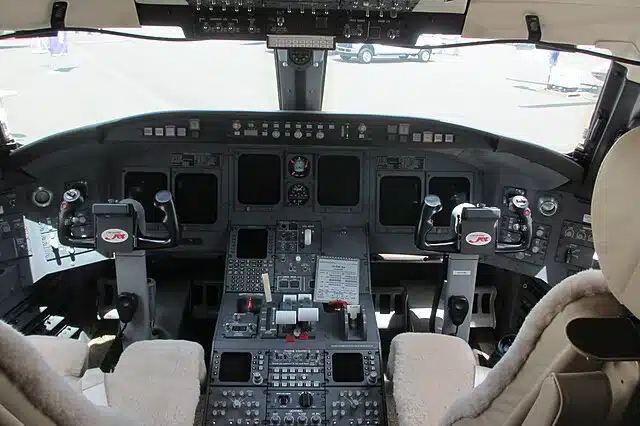 The living room's large flat-screen TV has access to all the channels and can stream movies and shows.
Not only that, but it also has a digital cabin entertainment system with touchscreen controls, fast WiFi, and phone access so Jay-Z can dial into conference calls 30,000 feet in the air.
Really, what more could you ask for?