He's an influential American podcast host, comedian, UFC commentator and media mogul – but it's Joe Rogan's car collection that's truly unique.
He has some of the most rare and coveted cars on the planet in his collection.
From American pony cars to European classics to modern sportscars and some unexpected hand-built speedsters – it's like an automotive history.
READ MORE! Conor McGregor shows off inside of jaw-dropping $2.7 million Lamborghini superyacht
Tesla Model S P100D
Lauded as the third-fastest production car ever made, this Telsa is a prime example of Joe's undeniable need for "preposterously quick" cars.
"It feels like something Bob Lazar snuck out of Area 51," he said on Instagram.
Accelerating 0-60 mph in only 2.5 seconds, the Model S P100D competes with the Porsche 918 Spyder in terms of acceleration.
The Model S P100D also features "Ludicrous" mode.
Flick the switch and it initiates an essentially overcharged launch control function.
This allows the powerful dual electric motors to launch the all-electric sedan at eye-watering speed.
2008 Sharkwerks Porsche 997 911 GT3 RS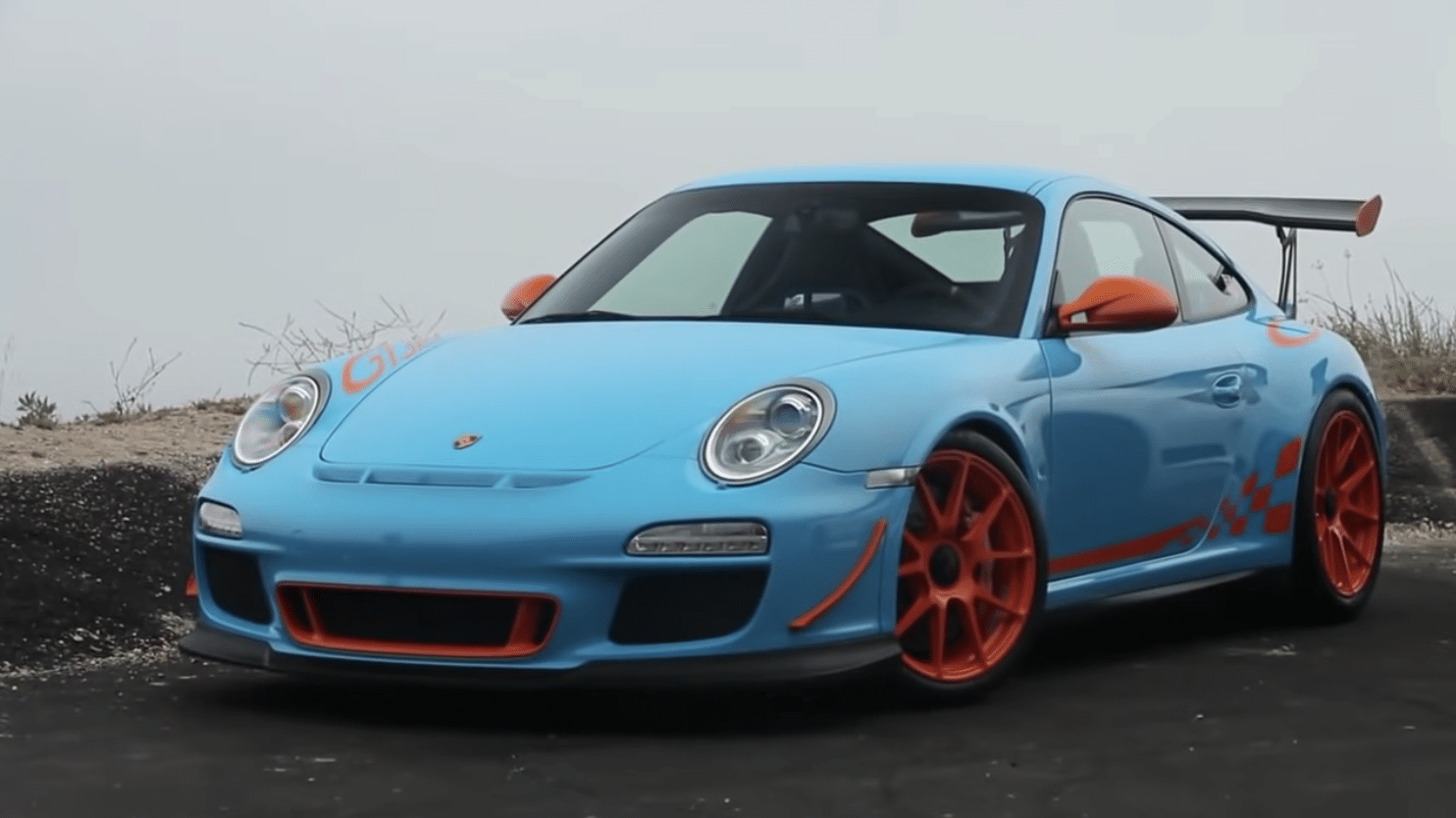 Meeting Rogan's love of both speed and custom- or hand-built vehicles, this Sharkwerks Porsche certainly fits the bill.
The California-based custom car garage specializes in upgrading Porsches with aftermarket parts and top-of-the-line tech for racing.
Enter his 500-horsepower track-focused 997 911 GT3 RS.
Hand-tuned by Sharkwerks' garage experts, the upgraded 3.9-liter flat-six isn't actually turbocharged.
However, the motorsport tech and analog feel make it an exceptional piece of art without compromising performance, refinement, or driver experience.
Rogan's upgrades include a TechArt noselift system, HRE P40 wheels, RSS suspension upgrade and motorsport technology and tuning.
993 Gunther Werks Porsche 911
Another custom sportscar and Porsche made by another California-based custom car garage, Gunther Werks.
Personally created for the man himself, it features a 4.0-liter Boxer engine, and it's one of only 25 custom Porsches produced by the firm.
Air-cooled Porsches are clearly one of Rogan's weaknesses.
It boasts a carbon-fiber exterior, 18-inch Fuchs-style alloy wheels, 4.0-liter flat-six engine by Rothsport, Getrag G50 manual transmission and a custom interior.
1993 Porsche 964 911 RS America
This rare Porsche is one of only 701 in existence.
It was designed specifically for the American market – more specifically with the Porsche Club of America in mind.
This is because the 964 Carrera RS was not offered in the US at the time.
The air-cooled RS America features a 247-horsepower Porsche M64 3.6-liter flat-six engine.
The track-focused model also features weight-saving features including no rear seats, power steering and cruise control.
2021 Ford Raptor Hennessey VelociRaptor
Joe Rogan's car collection reflects his affection for all-American cars.
This highly upgraded example features 600 horsepower and 600 pound-feet of torque.
What's more, advanced suspension, tires, and shocks provide superior off-road dominance and power.
The best-seller has an enhanced twin-turbocharged 3.5-liter V-6 that carries the pickup from 0-60 MPH in an impressive 4.2 seconds.
Other upgrades include enhanced air induction, high-capacity intercooler with blow-off valve, 37-inch off-road tires, suspension leveling kit and six-piston Brembo front brakes.
1971 Ford Bronco ICON 4×4
An even more rough-and-ready vehicle, this 70s model can conquer any terrain.
The custom resto-mod will make enthusiasts' jaw drop and it's made by Los Angeles-based garage ICON.
Despite its looks, it features some unexpected modern touches, such as a state-of-the-art sound system and infotainment system.
What's more, custom bison hide upholstery keeps Rogan's drive comfy.
Performance enhancements include a 5.0-liter Coyote V-8 engine, five-speed manual transmission, and FOX suspension plus 2.5-inch nitrogen-charged shocks and remote canister.
Other upgrades covered are ARB locking differentials, custom dynatac axles, borla exhaust, ICON Sport brakes made by Brembo, WARN winch and synthetic tow cable.
1995 Toyota Land Cruiser FZJ80 TLC 4×4
One of the most popular and capable off-roaders in history, it combines "survival" with luxury.
Enlisting the TLC 4×4 arm of the ICON garage, the very same firm that handled the 1971 Ford Bronco resto-mod for Joe, it has many of the same rugged upgrades.
What's unique? Its supercharged LSA engine that produces 560-horsepower and 580 pound-feet of torque.
In addition, it has an ARB front bumper with WARN winch, aftermarket SLEE rear bumper with skid plates, and Oldman Emu suspension.
1965 Corvette Stingray
Another powerful American car, this beauty features an LS1 engine and independent front and rear suspension from a C6 Corvette alongside a Magnuson supercharger.
The resto-mod also includes a tube chassis, centerline auto drag wheels and wide street performance tires.
These modern upgrades on the classic allow the supercharged LS1 engine to use all 425 horses with a modern braking system to rein them in.
Rogan enlisted the team at Pure Vision Designs to customize the C2's interiors with black leather.
1969 Chevrolet Nova
Another American muscle car is this unique and one-of-a-kind model.
The Pure Vision Design team blended the rear quarter panels of a first-gen 1969 Camaro, which the original Nova design was based on.
Upgrades include GT Sport suspension, Pirelli performance tires, Baer brakes, a supercharged LT4 engine, Tremec T56 six-speed transmission
and a C&R Racing radiator.
1970 Plymouth Barracuda "Sick Fish 2.0"
Designed by Chip Foose and Troy Trepanier of Rad Rides by Troy over a decade ago, this is a complete overhaul of an American classic.
Dubbed the "Sick Fish 2.0", the 750-horsepower monster vision was built by The Roadster Shop garage.
It features a Mercury SB4 7.0-liter LS7-based long block engine, FOX adjustable coilovers, and a custom Roadster Shop chassis,
The result: a striking aesthetic with optimized space and ground clearance.