While the musical back catalogue of Taylor Swift is what's catapulted her to superstar status – her property portfolio is pretty impressive too.
With the first U.S. leg of her record-breaking Eras Tour under her belt, she's enjoying some well-deserved R&R.
However, the 33-year-old Cruel Summer singer has options of where to hunker down.
READ MORE! Inside the incredible $170m concept house designed for Ronaldo
According to Forbes, she's worth a massive $570 million – and she's invested $150 million of that fortune in real estate.
From secluded coastal locales to the bustling cities of New York and Beverly Hills – she's come a long way from her roots in Pennsylvania.
AI architects are also falling over themselves to design concept mansions for Taylor and her supposed new beau, Travis Kelce.
AI aside, this is the unbelievable real-estate portfolio of Taylor Swift, the number three on Forbes' richest self-made women under 40 list.
West Village apartment, New York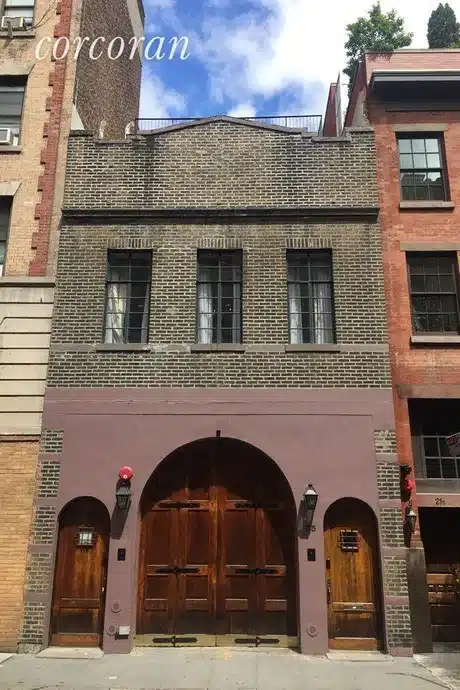 This unassuming home was thrown into infamy for Taylor Swift fans the world over by the lyric: "I rent a place on Cornelia Street".
Taylor lived in this 1870 brick townhouse between 2016 and 2017 while having her $50 million TriBeCa loft renovated.
Now on the market for a whopping for $17.9 million to own or $45k to rent – it's pretty spectacular.
With four bedrooms, seven bathrooms, and an indoor pool – it's more than big enough for the singer and her A-list friendship circle.
Look closer and double-height ceilings, antique Parisian brickwork, and chandeliers marry old-world charm with modern practicality.
TriBeCa Neighbouring Penthouses, New York
The TriBeCa penthouse in question? It's actually two properties. Talk about Welcome To New York.
In 2014, the 12-time Grammy winner bought two adjacent penthouses at 155 Franklin Street aka the Sugar Loaf Building.
The building was built in 1915 and fully renovated by architect Leopoldo Rosati.
She converted the pair horizontally into a large duplex.
With a whopping 10 bedrooms and 10 bathrooms, a billiards room, and a breathtaking sweeping staircase – it proved the coolest hang out for Swift and her celebrity clique.
Game of Thrones actor Sophie Turner is said to be currently staying there with her two children amid her divorce from Jo Jonas.
TriBeCa Condo Expansion, New York
With the Blank Space in the Sugar Loaf not big enough, the singer paid $9.75 million for a three-bedroom and 3,500-square-foot loft on the second floor of the same TriBeCa building.
It dramatically upped her profile in the coveted, historic building.
TriBeCa quickly became Taybeca.
Beverly Hills Estate, Los Angeles
Property mogul Taylor has been known to buy and sell to make money from her property investments.
Her third home in Los Angeles, was this 1934 Beverly Hills mansion purchased in 2015.
Once the home of Hollywood producer, Samuel Goldwyn, the 10,982-square-foot estate is currently being restored after achieving historic landmark status.
With seven bedrooms and 10 baths – the star is currently working within its historic-status guidelines to return it to its former glory.
It's currently valued at over $30m.
Watch Hill Seaside Estate, Rhode Island
Sitting atop the highest point of the small Rhode Island town, this 12,000-square-foot beach house has hosted some swanky celeb soirées.
Purchased to up her East-Coast property game amid her romance with Robert F. Kennedy's grandson, Connor, this place is pretty impressive.
The former summer mansion of the Harkness family, it features seven bedrooms, eight fireplaces, a glorious pool, and 700ft of sea views.
It's the perfect seaside spot for hosting the star's legendary Independence Day parties.
Beverly Hills Midcentury Modern Home, Los Angeles
While she no longer calls this stylish, ranch-style property home – you can see why the midcentury-modern, 1950s Hollywood style appealed.
Sitting beneath lush green hills, its glass walls allow the LA sun to beam in.
Four-bed, four-bath it boasts white beamed ceilings and a 1,000-bottle, climate-controlled wine cellar.
She reportedly bought the home in 2012 for $1.775 million and listed it in May of 2018.
It sold for $2.65 million.
Music Row Penthouse, Nashville
Making her first foray into the house market at just 20 years old, Taylor purchased a 3,240-square-foot Music Row condo in Nashville in 2009.
Located in the industrial-style, luxury Adelicia building, it features floor-to-ceiling windows and an open-concept layout complete with exposed brick.
According to reports her interior style was "whimsically girlie" and "shabby-chic Alice in Wonderland".
Greek Revival Estate, Nashville
Her second Nashville home was this huge Greek Revival mansion, known as Northumberland Estate.
Purchased in 2011 for $2.5 million, it features a 5,600-square-foot main house with a 2,000-square-foot guesthouse, vaulted ceilings, herringbone floors and marble fireplaces.
With her mum still in residence, it boasts five garages, an outdoor swimming pool with a two-storey pool house and extensive walled gardens.