With a starting price of $3.3 million, the Bugatti Chiron is one of the most expensive production cars in the world.
And yet, there are expensive watches that cost more than that.
From seemingly simple watches from brands you've never heard of to iced-out pieces, these are seven watches that cost more than a Bugatti Chiron.
7. Louis Monet Meteoris
READ MORE: 5 Swiss watches cheaper than Salt Bae's $2,500 gold steak
This is technically a collection of four watches, coming in with two different designs.
What makes these seemingly unassuming wristwatches so expensive is all four contain a different piece of a different meteorite, as in a literal piece of meteorite.
One of them has an actual piece of moon rock in it.
The collection was launched back in 2010, with a price tag of $4.6 million.
6. Jacob & Co. The Billionaire
The crazy thing is, this is technically a production model.
Anybody can buy one, as long as they're obviously very rich and possibly well-connected because it isn't easy to find.
Aptly dubbed 'The Billionaire', it's made from 260-carat diamonds and it also has a skeletonized dial, which means you can see the movement.
Floyd Mayweather Jr has one.
And it 'only' cost him $18 million.
5. Patek Philippe Henry Graves Supercomplication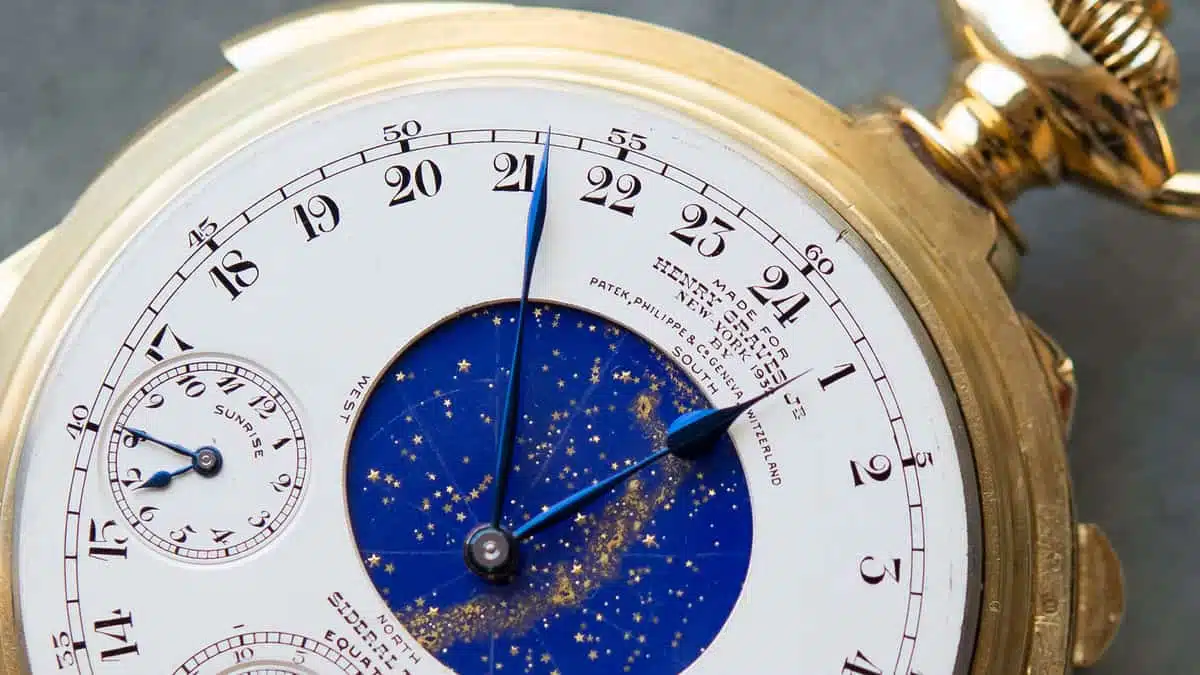 This is an amazing one-off pocket watch created by Patek Philippe to honor the memory of one the brand's most respected collectors, an American banker named Henry Graves.
It's called the Henry Graves Supercomplication because it has 24 complications.
In watch jargon, a complication is any other function of the watch apart from the display of the time.
This one has, among others: a perpetual calendar, sunrise and sunset times, and even a celestial chart.
It's beautiful and pricey, one of the world's most expensive watches from one of the world's most important watch manufacturers.
It ended up selling for $24 million at auction in 2014.
4. Chopard 201k
Like most expensive watches on the list, this is basically a piece of jewelry that just so happens to tell the time.
The watch is called 201-Carat Chopard, which is also obviously a reference to the total number of carats.
It includes a 15k pink diamond, a 12k blue diamond, an 11k white diamond, and a plethora of smaller white and yellow diamonds for a combined 163 carats.
It can be yours for $25 million.
2. Jaeger LeCoultre Joaillerie 101 Manchette
Unlike other expensive watches on the list, this ultra-expensive item is made by a company that specifically makes watches.
The company in question is Jaeger-LeCoultre, or JLC for short.
The Joaillerie 101 Manchette was a one-off timepiece created for Queen Elizabeth II to celebrate her 60th year as the ruler of England and it has 576 diamonds.
In fact, there are so many diamonds you can hardly see the face of the watch.
But for a watch worth $26 million, we're going to go on a wild guess and assume would-be buyers wouldn't care.
2. Graff Diamonds Fascination
This timepiece is made by a company called Graff, based out of Monaco.
They call it the the 'Diamonds Fascination', and it features 152.96 carats of Graff's white diamonds.
And it even hides a party trick: a removable pear-shaped 38.13 diamond ring located at the center of the watch.
It costs $40 million.
1. Graff Diamonds Hallucination
The Diamonds Hallucination is also made by Graff and it is a quartz watch, as in it literally has pieces of quartz in it.
There's a platinum bracelet, but you can't see it because the whole watch is covered in about 100 diamonds in various colors and shapes for a grand total of 110 carats.
It was launched in 2014 and despite having fewer diamond pieces than its smaller brother, the Fascination, it actually cost more – $55 million.