A gaming YouTuber has just gifted his bodyguard a brand-new 2023 Lamborghini Urus. 
Not only that, but he turned around straight afterward and gifted his cameraman a $140,000 Tesla Model X. 
That wasn't the end of the story, he also gifted another member of his team a Rainbow Rolex.
READ MORE! Man reveals eye-watering costs of maintaining his $5 million superyacht
Adin Ross is an American personality who's built a cult following on YouTube by live streaming his video game play. 
At just 22 years old, he's amassed 3.68 million subscribers on the platform. 
And now he's sharing a huge chunk of that success with the people around him. 
But in true YouTuber fashion, he went about it by staging a prank – hiring a legit actor and everything. 
"So how we're going to do this is we're going to have you fake argue over a parking spot," Ross said. 
So with the actor screaming in the background, Ross told his buddy Ant to get down to the parking lot as fast as possible. 
Ant arrived to a pretty heated situation, with the two men 'fighting' in the parking lot. 
That's when Ross stepped in and told Ant it was all just a prank. 
He then tells his friend that the brand-new Lamborghini Urus behind him is all his. 
"I just want to say from the bottom of my heart, it's always been brotherly love with you and I appreciate everything you've done for me," Ross said. 
"There have been times when I've been banned and not making any money, and you took the hit. 
"So, thank you bro, I appreciate you." 
With Ant behind the wheel of his new Lambo, Ross turns to his cameraman, whom he's known since the third grade, and tells him to turn around. 
Behind him is his brand-new Tesla Model X.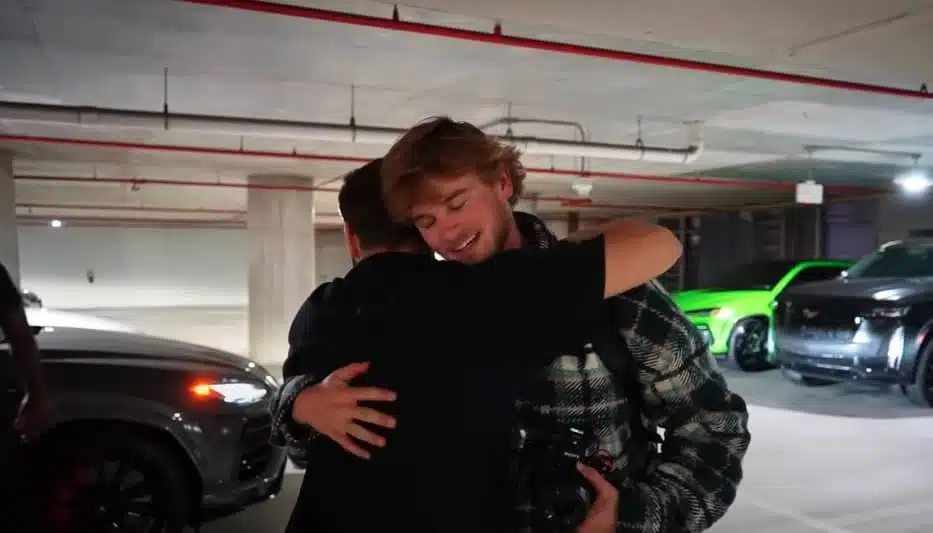 Ross then turned to his other cameraman and handed him a Rainbow Rolex. 
Then at the end of the video, the 22-year-old YouTuber asks the hired actor how much he owes him for the stunt. 
He then totally disregards his humble answer and hands him a huge chunk of cash amounting to $10,000. 
At this, the actor grows emotional and tells Ross he was recently forced to sell his house and how much this money would change his life. 
Moved by his story, Ross walks away and comes back with even more cash for the actor.
You can watch the full video here:
The video was posted just one day ago but has already amassed almost 1.5 million views. 
It's unsurprising given just how incredibly generous the young YouTuber proved he was.