Brad Pitt is currently gearing up for his new Formula 1 inspired movie Apex.
It transpires, though, the actor's interest in cars isn't purely professional – outside of work he's a car enthusiast.
As you'd expect from a Hollywood actor of his stature, Pitt owns a sizable car collection, but there's one vehicle in particular that stands out.
READ MORE: Diddy has an ultra-premium car collection with two Ferraris and arguably the best car in the world
In Pitt's car collection is a 2007 BMW 7 Series.
This isn't you average 7 Series, though; it's a BMW Hydrogen 7, and it's the rarest car in his collection.
On the outside, this looks like your everyday sedan, but under the bodywork it houses a rare engine which can run off hydrogen, as well as conventional fuel.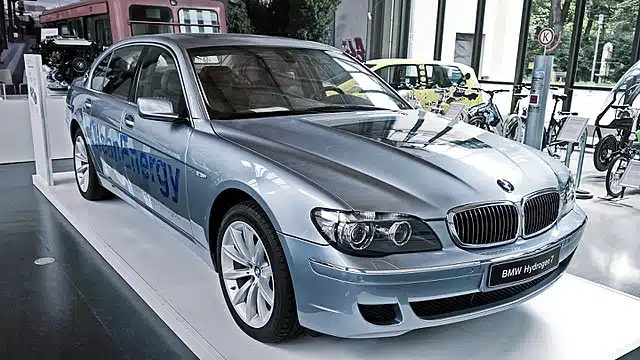 Only 100 units of the BMW Hydrogen 7 were ever made, and they were snapped up by a selection of celebrities and BMW executives.
The performance is like that of the normal sedan, with a top speed of 143 mph, getting to 100 km/h (62 mph) in 9.5 seconds, and with 256 horsepower coming from its 6.0-liter V12.
But the ultra-rare 7 Series isn't the only highlight of his car collection.
Brad Pitt is apparently the proud owner of a 2015 Aston Martin Vanquish Carbon Edition.
This was reportedly a gift to the actor from his ex-wife Angelina Jolie.
The special edition Vanquish gets its name from the number of carbon fiber parts which reduce its weight.
With that comes increased speed – a maximum of 323 km/h (201 mph), going from 0-97 m/h (0-60 mph) in 3.6 seconds, with 567 horsepower coming from its 6.0-liter V12.
Clearly Brad Pitt is somewhat of a speed demon, as he's also got a Lamborghini Aventador LP 700-4 in his collection.
Almost certainly the most expensive car in the set, the Lambo is worth in the region of $400,000, which probably explains why Pitt is seen so rarely in this ride.
Its 6.5-liter V12 puts out 700 horsepower, rocketing the supercar from a standstill to 97 km/h (60 mph) in 2.9 seconds and on to a top speed of 349 km/h (217 mph).
Brad Pitt also has a penchant for SUVs, as there's no fewer than four in his collection.
These include a Jeep Cherokee, Chevrolet Tahoe, Audi Q7, and a Mercedes-Benz G55 AMG.
As for EVs, the actor has just one model in his collection – a Tesla Model S.
Surprisingly, he owns two – one in black and one in silver – which undoubtedly came in useful when one was involved in a crash in 2018.
Brad Pitt is reportedly in the company of Will Smith, Leonardo DiCaprio and, of course, Elon Musk, when it comes to celebrities who drive Teslas.
Pitt's Model S has an electric powertrain pumping out 670 horsepower, capable of 0-97 km/h (0-60 mph) in just over 3 seconds, reaching a top speed of 249 km/h (155 mph).