Eminem's luxury car collection is as expensive and coveted and sparkling as his 15 Grammy Awards.
The American rapper, song writer, record producer and actor loves expensive things.
And he favours two expensive car brands in particular: Porsche and Ferrari.
READ MORE: Timeless! Inside Jay-Z's epic multimillion-dollar watch collection
Eminem, aka Marshall Bruce Mathers III, has a current net worth of an estimated $250 million according to Celebrity Net Worth.
His alter ago, Slim Shady, has been at the centre of a lot of controversy over the years.
But while we know about the skeletons after he released Cleanin' Out My Closet – it's time to learn about the car collection in Eminem's garage.
11. 2003 Ferrari 575M Maranello
Cost: $217,890
With only 2K units ever produced – and only 177 with manual transmission – this is a modern classic.
It links the heavy lines of old-school classics with the streamlined of more modern design.
Boasting a naturally aspirate and longitudinally-mount front 5.7L V12 engine, it produces 508 hp.
Speaking of performance, it can reach a maximum speed of 202 mph and can accelerate from 0 to 62 mph in 4.2 seconds with 434 lb-ft torque.
10. 2004 Porsche Carrera GT
Cost: $410,000
With a limited run of 1,270 ever produced and exceptional performance capabilities – it's no surprise that this price tag packs a punch.
Equipped with a 5.7L V10 engine that produces 603 h, it can accelerate from 0 to 62 mph in 3.57 seconds with 435 lb-ft of torque.
Top speed clocks in at an impressive 208 mph.
With a silver metallic finish, aesthetically this stunning convertible is both sleek and muscular.
9. 2005 Ford GT
Cost: $605,428
Built with a 5.4 L longitudinal rear-mount Modular V8 engine, this motor masterpiece generates a power output of 550 hp.
With a top speed of 205 mph, it can accelerate from 0 to 62mph in just 3.8 sec.
This mid-engine, two-seater sports car is the most expensive supercar in the rapper's collection per current market valuation.
Another extremely rare motor, it was debuted as a special edition model for the 100th anniversary of the company in 2005.
8. 2006 Aston Martin V8 Vantage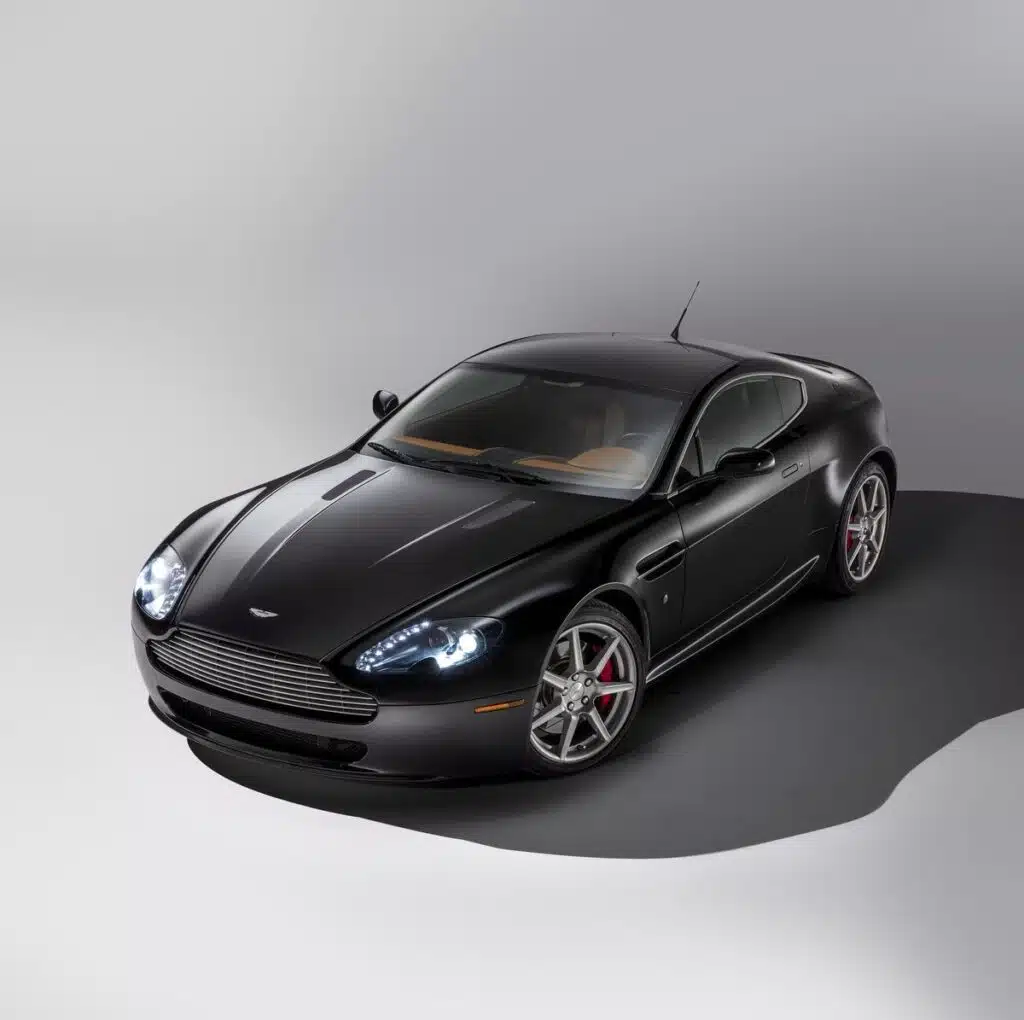 Cost: $110,000
Made in 20 variants, the British-made car is an exquisite balance of performance and luxury.
Accelerating from 0 to 60 mph in about 4.3 seconds and an acceleration from 0 to 100 km/h in just 4.9 seconds – its performance is impressive.
Its stylish design, reminiscent of the iconic James Bond's favorite, Porsche 911, sets it apart from other sports cars.
It pairs sleek lines with an overall commanding presence on the road.
7. 2008 Ferrari 430 Scuderia
Cost: $186,925
Holding a special place in Eminem's collection due to its exceptionally high performance and stylish design, the 430 has a 4.3 L V8 engine.
Developed with input from German driver, Michael Schumacher, the power under the hood can generate power up to 503 hp at 8,500 rpm.
What's more it can accelerate from 0 to 62 mph in 3.6 seconds with a top speed of 198 mph – competing with Porsche 911 GT2.
Serving as a template for other vehicles, its advanced aerodynamics and exceptional craftsmanship highlight the rapper's supercar style.
6. 2011 Ferrari 599 GTO
Cost: $410,000
Eminem got invited by Ferrari to get his hands on one of the 599 Ferrari GTOs made.
The limited-line, stunning sports car combines high-performance with a stylish and elegant interior.
Powered by a massive 6.0-liters Tipo F140 C V12 engine that produces a max power output of 612 hp, it was the fastest ever Ferrari at the time.
The acceleration is from 0 to 62 mph in under 3.3 seconds and has a top speed of over 208 mph.
The drive ais as smooth as one of the rapper's tracks, it features advanced aerodynamics, improved suspension system, and superior braking.
5. 2011 Porsche 911 GT3 RS 4.0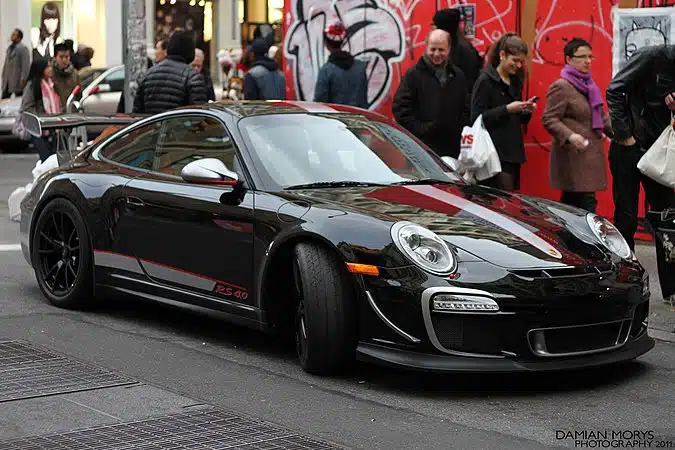 Cost: $185,000
Launched in 2011, this is the last variant of the Porsche 997 GT3 and one of Eminem's most exciting and impressive rides.
Powerful 493 hp output and a top speed of 193 mph includes acceleration from 0 to 60 mph in 3.5 seconds time. 
Combining a trifecta of style, performance and power, proper maintenance is crucial for keeping it in top condition.
Regularly services, following manufacturer recommendations to the letter and keeping an eye on fluid levels are essential.
4. 2011 Audi R8 Spyder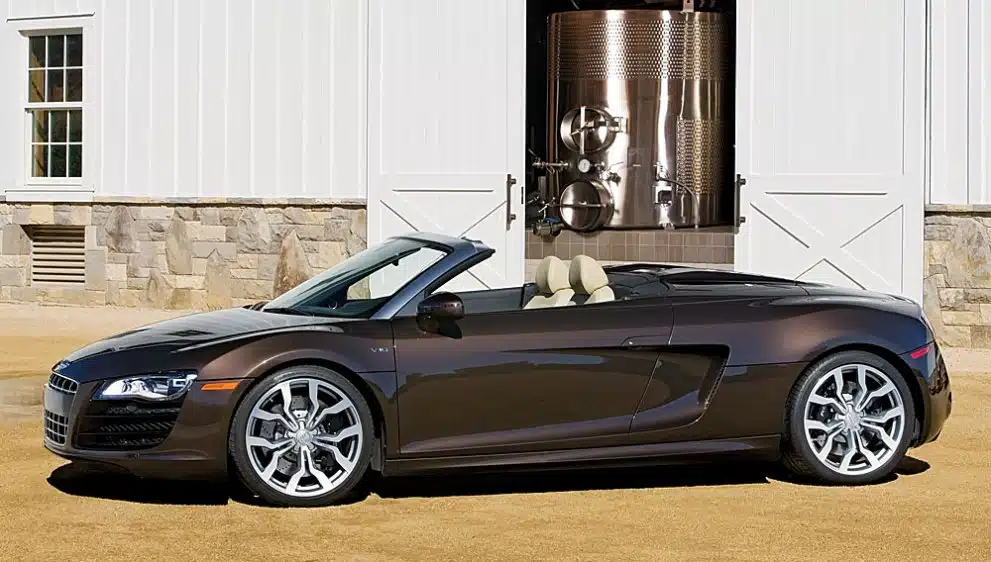 Cost: $156,750
This mid-engine, advanced Quattro all-wheel drive sports car produces a horsepower of 518 at 8,000rpm with 391 lb-ft of torque.
Its 5.2L 10-cylinder V10 engine accelerates from 0 to 60 mph in 3.6 seconds.
That, plus exceptional handling, lightweight construction, precise steering and adaptive suspension system mean it performs on the track and open road.
Plus it boasts a top speed of 198.8 mph with a lightweight chassis for ultimate comfort alongside its superlative race-car performance.
Sleek and aerodynamic design, aggressive lines, iconic LED headlights, and a retractable soft-top roof make it a true head turner.
3. 2012 McLaren MP4-12C
Cost: $229,000
Company claims state that the 2012 McLaren MP4-12C's M838T 3.8 L(3,799 cc) twin-turbo V8 engine produces 592 hp at 7,500 rpm.
With a top speed reaching 207 mph and 483 lb-ft of torque, it accelerates from 0 to 60 mph in a mere 2.8 seconds.
It's known for its sleek design and aerodynamic features that enhance road performance.
Offering precise handling and exceptional acceleration, it's soft spoken with a powerful punch and a thrill to drive.
2. 2014 Lamborghini Aventador 
Cost: $441,600
This convertible, angular and attention-grabbing supercar has a powerful naturally-aspirate 6.5L V12 engine.
Producing 700hp with 509 lb-ft of torque, this powerful machine can accelerate from 0 to. 62mph in 2.9 seconds with a top speed of 217 mph.
The interiors have a fighter-jet feel with the standard safety features you'd expect.
With distinctive scissor doors and aggressive styling plus its speed, its the automotive equivalent of one of Eminem's tracks.
1. 2019 Porsche 911 GT2 RS 
Cost: $293,200
Cranking 690hp, with 553 lb-ft of torque it can accelerate from 0 to 60 mph in 2.6 seconds with a top speed of 211 mph;
It's one of the top five fastest cars that Porsche made with impressive lap times setting it apart from other Porsches.
Sporting a lightweight yet powerful 3.8-liter flat-six engine engine it also possesses ultra-handling characteristics.
Step inside and Apple CarPlay and other cutting-edge gadgetry alongside fixed standard seats will make you feel at home on the road.