The 2023 EarthRoamer SX is a luxury off-road RV that could help you survive the end of the world.
The luxurious behemoth thrives – and could help you do the same – in harsh environments.
After debuting at the 2022 SEMA Show in Las Vegas last November, you can finally see the 2023 EarthRoamer SX in action.
READ MORE! American couple converts abandoned, old school bus into beautiful RV home
Vanlife content creators Kara and Nate put it through its paces in the Moab desert in Utah, hitting the Gemini Bridges trail.
It's the first time anyone outside of the brand has been put in charge of the rig in a real-life scenario.
The 2023 EarthRoamer SX is bigger, higher-specced, and more comfortable than its predecessor, the EarthRoamer LTi.
There's currently only one in existence.
Like this futuristic RV that can fit a kayak inside, this massive mobile home can be configured to sleep as many as six people.
It has all you need aboard to go off-grid.
If you're mindful about saving water, there's an onboard tank that holds enough for three weeks.
If you like your showers long and run the dishwasher after every meal, it could have a run of a week.
But this van-life isn't about slumming it.
It has a starting price of $995,000, with a fully-specced model setting you back $1.1 million.
But the onboard features make it worth it, with the 2023 EarthRoamer SX being reminiscent of a yacht on land – but tougher.
However, it doesn't actually float like this Houseyacht.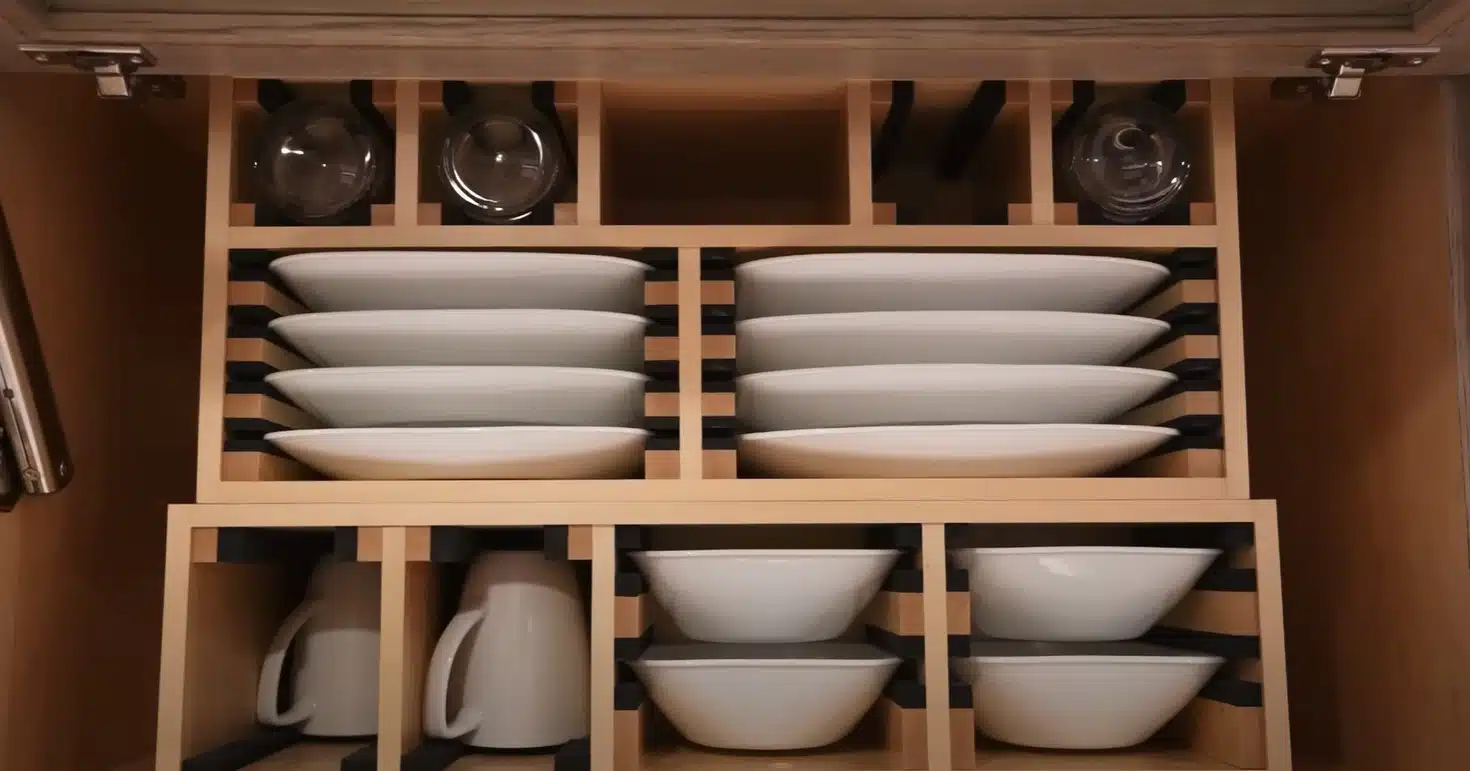 Inspired by the chassis of a Chevrolet 6500 4WD truck, the SX has the stock 6.6-liter Duramax V8 engine.
It can deliver 350 horsepower and 700 lb-ft (949 Nm) of torque.
But, like this 5* luxury RV, it's the upgrades in and outside of the cab that really set the off-road RV apart.
It's made of rough, X-Guard painted, vacuum-infused carbon fiber that's tough enough to keep out even the most alive of the undead.
Going off road? No problem for this luxury off-road RV that boasts 43-inch military-grade Goodyear tires.
Air-ride suspension, heavy-duty anti-sway bars and an onboard air compressor will also help with tougher terrains.
Life aboard this off-road RV is more high-end than red-neck.
The interior has hardwood floors and granite countertops that raise the bar of life on the road.
The dinette at the rear can seat all six people onboard at dinnertime.
That space multitasks as an entertainment lounge with a large, pull-down TV screen.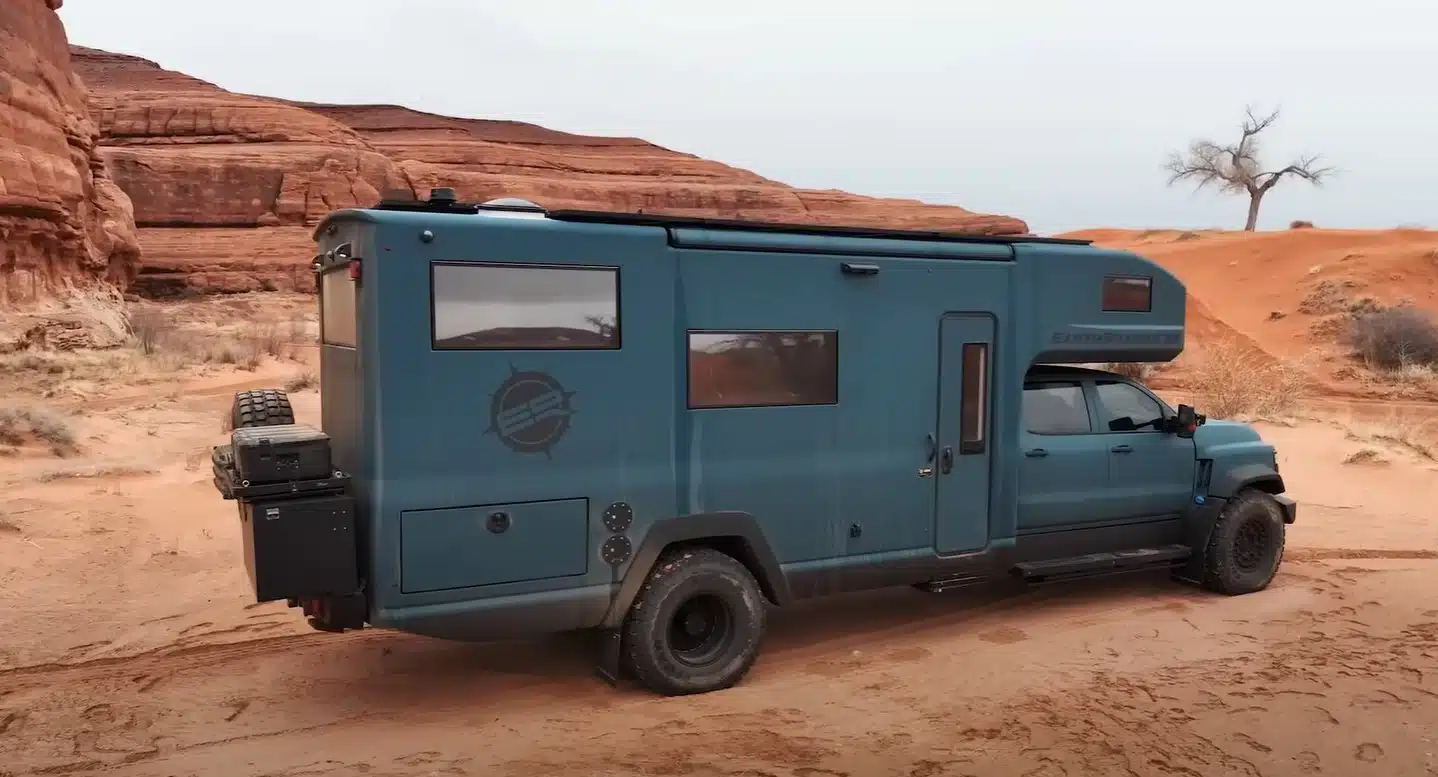 Making it a triple threat, it can also be converted into a two-person bed at night.
Canned convenience food isn't a necessity with the compact, yet spacious kitchen area.
It comes fully fitted with a wine fridge, standard fridge-and-freezer combo, and a four-burner induction cooktop.
A complete outdoor kitchen with BBQ grill and table make al fresco dining a breeze.
A large farm sink with dual faucets, incredible storage and custom EarthRoamer vacuum means keeping it tidy is a breeze on the go.
Flagging? There's even a coffee station if you need a caffeine fix.
Fresh laundry is a breeze, too, with a hidden washer and drier.
Store those clean clothes in a wardrobe with ample storage options: from a hanging closet to various cupboards.
The bathroom has a shower cabin, toilet and sink, plus there's an outdoor shower and cassette toilet when nature calls.
When it's time to power down, the main bedroom's California king-size bed surrounded by windows and a large skylight is above the cab, allowing you to keep an eye out for rogue zombies or simply watch the stars and the world go by.
Privacy is key – even when civilisation comes to an end.
Windows are fitted with standard netting and black-out curtains and open to get proper cross-ventilation.
The skylight allows access to the 1,600 W of roof solar panels.
These are connected to a 18,000 Wh battery bank that runs all appliances onboard.
It also comes with a pass-through garage, and powerful winches front and rear.
A full surveillance system with cameras front and rear allows for peace of mind and full visibility in all traffic conditions and terrains.
In other words, it's ready for anything.